Steven Daigle is best-known as the bucking bronco-riding rodeo cowboy who found fame on TV's "Big Brother," but today he's riding the big dick of Dakota Rivers. The two tall and toned men are hard and ready to go before the pants come off. Steven keeps flashing his bedroom eyes at Dakota while blowing him, making it harder and harder to resist pillaging his sweet ass. Dakota manages to control himself long enough to throat Steven's beautiful cock and eat his ass, but lust gets the best of him as he soon finds himself balls deep in Steven's hole. Steven shows us that he hasn't lost his talent of riding that Texas long horn and takes every inch that Dakota gives him, never losing that trademark wink and smile… even when he's covered in two loads of cum.
Short preview video: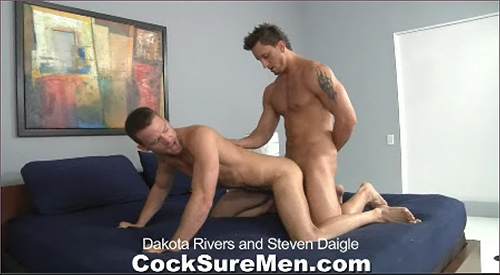 As you probably know, I don't often put scenes that involve anal sex on this blog, but in this case I just had to make an exception. I mean just look at these two adorable studs getting on with each other.