Some straight guys are ready to experiment with just about anything as soon as I suggest it to them, while for others it takes much more time. Gene is our old friend, a masculine straight marine that has high sex drive and can get it up in a matter of seconds. He's gone a long way, from jerking off to letting a guy blow him.
The video starts out with me trying to relax him first with a handjob which he's already accustomed to. He appears to be reserved at first, but once I start slobbering and sucking on that amazing cock of his, all shyness goes away. He grabs the back of my head, and pushes it down on his cock aggressively, moaning in pleasure.
Gene's dick is a very reliable tool. It gets hard easily, quickly and stays hard as long as it's necessary! And it's also very stiff and solid while it's hard. Gene's cumshots are also epic, very strong and copious, lots of cum being sprayed around. Even though he had wanked off this morning, he still blows a fascinating load of cum that misses my face by inches.
If you watch attentively toward the end, you'll see Gene's leg start moving around. Nice guy that he is, he thought he'd rub it against my cock to show his appreciation. Thanks buddy!
Short preview video: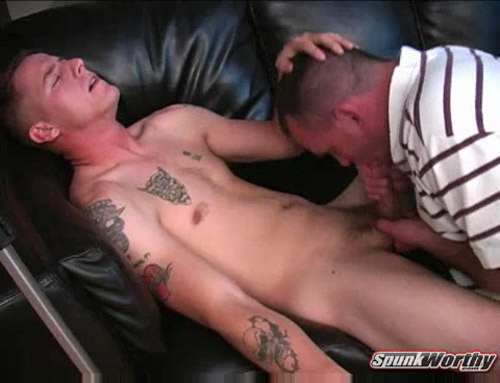 Click here to watch his video at SpunkWorthy – a great site for lovers of real straight amateur dudes!