If you like our famous italian stud Tony, you will probably like Vinny as well. Vinny is of Irish and Italian descent and is a native New Yorker. He is a police academy cadet, which he enrolled because it's a part of the tradition in his family.
Vinny is a totally straight guy, and he emanates macho vibes with every his move. And on top of that he's got that typical Brooklyn accent.
Vinny prefers women for sexual escapades, but he will let a guy blow him if there is some alcohol involved. This time, however, we offered no booze but gave him a little "stipend" he can use during the time he is in the academy.
When we asked him what if he had any specific wishes and demands for our cocksucker, he just said "I just want my fucking cock sucked". He enjoyed his blowjob very much, while his cock was slurped and slobbered upon which made him very horny and even put a little laugh on his stern face.
The professional, deep fucking also made Vinnie to moan, and eventually he blew a big thick load of straight cop cum!
Short preview video: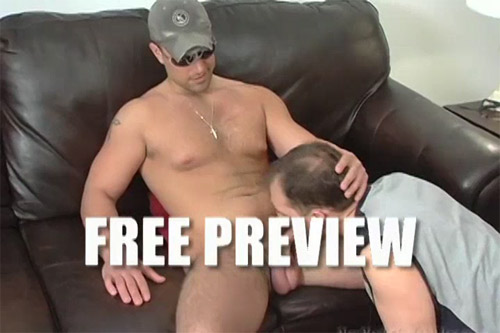 Click here to watch their whole video on New York Straight Men!
New York Straight Men is the world's biggest collection of straight men getting their blowjobs from gay dudes!