Emmett is a 24-year-old straight guy who is into all kinds of sports, but especially football, wrestling, lacrosse and rugby. He summed it up quite nicely in one sentence:
"If I could hit it, I'd play it."
Emmett is new to San Diego and he quickly discovered he'd need more money than he had previously thought. Since he's totally laid-back and easy-going dude he thought he'd give a shot at porn.
However, it's more than just money. I could bet Emmett is a bit of an exhibitionist. As soon as he walked in the door he was already taking his clothes off. And his dick was already half-hard.
I asked him to show his muscular ass cheeks and he did that without freaking out like some straight dudes. His ass has definitely profited from all those years he has played rugby.
Emmett is one horny devil. He even thought he could shoot two loads one after another. His first load was VERY intense and I thought that anything more than that would just be an overkill.
When he was shooting the load, it was like a big bracelet of thick cum that just totally covered his stomach and legs and made a complete cumsplatter.
Short preview video: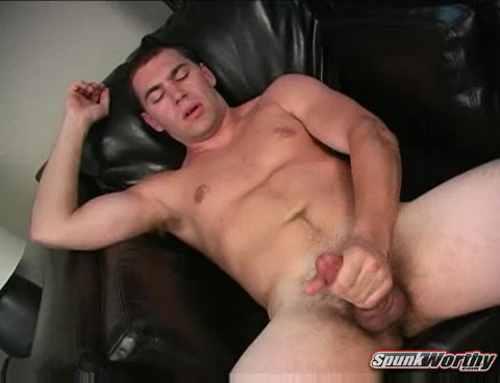 Click here to watch his entire video in perfect HD quality at SpunkWorthy!
SpunkWorthy is a great porn site that features younger straight amateur dudes. This site is usually the first and only place where you'll see these bad boys, so don't miss out!