Well, well, well… finally a real blue-collar guy! Brent used to be a Merchant Marine, but now works as a house painter by trade, and that is mostly in Brooklyn and Staten Island. Brent is married and his wife sucks his dick all the time.
Brent is a very easy-going guy, he doesn't like hurry or fuss in life. The same applies to blowjobs. Although completely straight, Brent doesn't mind if a guy sucks him off, it just feels too good to pass by. And he is always very grateful to the cocksucker. In fact, Brent likes blowjobs so much that he says he wouldn't mind if someone could suck him off several times a day. However, Brent never returns the favour. That's the way it is guys – you suck him, he never sucks you. Brent told us that he thinks blowjobs are the best way to reduce stress!
We wouldn't feel good about ourselves if we had a tense and nervous straight dude at our place for long, and since he told us how what's the best way to de-stress him, Trey just had to go to work. Trey was surprised at how HUGE Brent's cock is, but he managed to get it all the way down. He was deepthroating Brent's big cock and his balls were bouncing off Trey's chin. Trey's nose was diving deep into Brent's blond and thick man-bush!
Trey was a persistent cocksucker, and slobbered and swallowed the hard piece of this man's cock the best he could. Eventually Brent felt he was on the brink of the point of no return and shot a big wad of cum all over lucky Trey!
This blowjob really de-stressed Brent and he returned to his usual daily business as a relaxed and happy man!
Short preview video: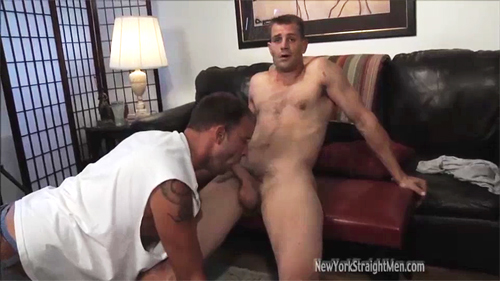 Click here to watch his entire video at New York Straight Men!
New York Straight Men is the world's largest and best collection of hot and horny straight men getting their blowjobs from gay dudes!