Our two dedicated tops, Master Maurice and Master Jon have just gotten a new puppy that badly needs some serious training. The new bottom boy is still green and has no proper respect for authority. But that is soon going to change. Our masters have amazing experience and much success in training subs to submit and live as their little doggies. Maurice shows off a vicious looking strap and makes sure the sub boy pays attention. Our sub boy has to get himself on all fours while Master Jon gobs a big dollop of saliva onto the largest dog-tail butt plug we've ever seen, just before shoving the appliance into the boy's aching asshole for his tail.
After a game of 'fetch' he is ordered to roll on his back and play dead. The two towering dominant brutes drop their shorts, cock their legs up and piss on the poor cunt's face.
The ungrateful sub can't swallow all the piss and some of it spills onto the Masters' feet. Now he has to lick all the piss off their handsome bare toes and off the dildo.
Short preview video: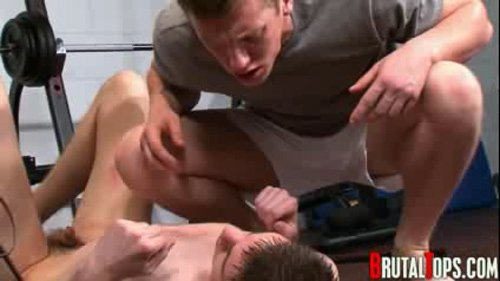 Download the hardest new gay S&M videos from BrutalTops!