Today we're going to revisit yet another of those classic blowjob videos from Newyorkstraightmen. It's always good to see Vin Nolan again, his smoking hot body and cock. He had been on the road and called the NYSM headquarters asking whether it would be possible to obtain a fantastic blowjob while he kicked back on the sofa and enjoyed a few smokes.
The answer to this question was, of course, a resounding YES… and it was a perfect timing because a new Resident Cocksucker called Marco had just been accepted and wanted to prove himself. Marco himself is a pretty hot guy, and his cocksucking skills are pretty much unmatched!
Naturally, we are always glad to see Vin Nolan back in NYSM headquarters. It was really here at NYSM that Vin's career in the Adult Industry was launched… but once Marco saw how Vin looked, it's probably not an overstatement to say that he fell down on his knees and just wanted to worship this hot hung stud.
Vin kicks back on the sofa where he usually sits while getting his dick sucked, spreads his hairy muscular legs, and lets Marco do his magic. Vin's cock was already hard while it was still in his briefs, and you can tell by Marco's big smile how much he was thrilled to swallow that big cock ASAP! When Marco started to taste his cock, Vin lit up a cigarette and enjoyed a nice smoke while the new cocksucker was giving him a wet, sloppy blowjob.
Vin's cumshots are usually copious, and he doesn't disappoint this time either. Marco's hard work was rewarded with a rather big load of jizz that Vin splattered all over his chest. Marco was so happy that Vin raped his throat with his giant stiff cock, that he couldn't stop smiling after the blowjob was over!
We made sure to include quite a bit of this blowjob in the EXTENDED PREVIEW VIDEO below, so if you like these NYSM blowjobs, you should definitely check out the entire video at their website.
EXTENDED PREVIEW VIDEO: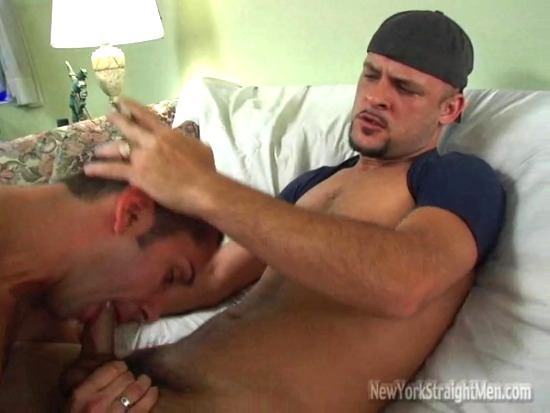 Click here to watch their entire video in HD quality at New York Straight Men!
New York Straight Men is the world's biggest collection of straight men getting their blowjobs from gay dudes! These men are usually truly straight but they love getting head from a gay guy because it feels so much better than whatever their girlfriends can do. These men are not the Hollywood type cuties, they are Real Men!