Do you like muscle men? I do, but when they are not pumped up excessively. I appreciate the normal amount of muscles that gives a guy his masculine "beefy" look.
Dean Van Damme is just such a dude. He is completely straight and very handsome. While a lot of bodybuilders work out to compensate for some inadequacy in their looks (short dick or ugly face), that's certainly not the case with Dean. He is beautiful from head to toe, and years of playing different sports have given him a body that other guys can only respect and be envious of.
We begin this shoot with an interview. His voice is masculine and charming, he really comes across as a cool and relaxed guy. After we completed the interview, Dean starts to lift his vest to show us his perfectly hard six-pack abs. Then he takes the vest off and we can appreciate his very broad and strong shoulders and chest. At this moment Dean plays with his nips a bit and then begins to rub his cock through the shorts.
Next Dean puts a relatively large amount of body oil on his chest and rubs it in, then on his huge arms and perfect abs.
Then he continues to rub his big bulge in his black adidas shorts. He snatches it at its base trying to give us an idea of how big it actually is. Then he pulls his shorts down and we can see his hardon in his briefs. Finally he removes the briefs and we can now see his dick in its full size and glory. It is about 8 inches long (20 cm) and looks beautiful and perfectly shaped. His dick is uncut and curves upwards like a rocket. He begins to jerk off slowly, and gives us a nice look at his foreskin going up and down.
Dean's legs are huge and very strong, I think his thighs are the biggest I've seen in any guy so far. He continues to jerk off, and plays with his foreskin. Then he takes the hand off his dick which doesn't affect the hardness of the cock. It just remains stiff and erect all the time.
Next we move to a low angle and take a look at his huge body from below. His breathing gets faster and all of a sudden Dean shoots his load. Thick, creamy streams of cum being shot out of his cock.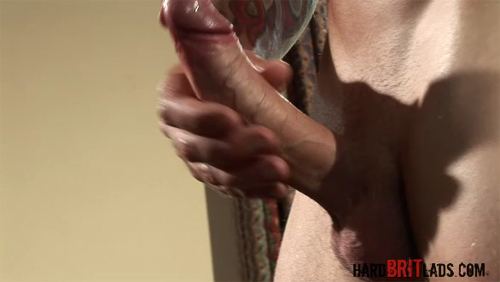 Click here to watch his entire video in perfect HD quality at
Hard Brit Lads!
Hard Brit Lads is a relatively new porn site that features only the most masculine and well-built straight and bisexual guys showing off and fucking the shit out of each other. The videos are well-made and shot in HD. Don't miss out lots of amazing, manly men!