There is something positively hot and perversely attractive about being abducted by a gang of several young, aggressive thugs. How would they treat you if you were at their mercy? What would they do to you sexually if you couldn't fight back?
This poor sub is now at the mercy of two strong thugs – scally lads Nick and Lukas. The cruel Masters are wearing their trackies, which makes them look extremely hot and vicious. They tied him up and immobilized him completely. He is now their little sub slave and they'll be doing all kinds of nasty things to this lad.
The first and foremost thing for every sub is to learn how to allow to be dominated by the men who are more masculine than him. He has to let go of all the defenses and let his Masters have their way with him.
They force the sub to smell their sweaty, hairy, muscled bodies and stick his nose in their smelly armpits. This is to prepare him for their stiff erect cocks that will stretch this little sub's anal and oral holes. They continue to subjugate him by stamping on his head with their sneakers, then by flogging his feet with a cane.
Nick and Lukas are pretty horny today so the poor sub will have to withstand being brutally fucked by both of them. While he is mercilessly abused and his orifices are being violated, the Masters yell at him and shout all kinds of obscenities. They continue to subdue this poor sub by caning him and laughing as he cries for mercy.
Preview video: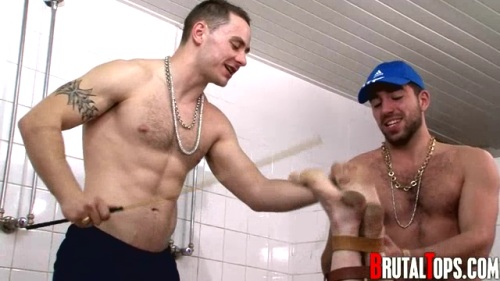 Download this one and many other horny new BDSM videos at BrutalTops!
Brutal Tops is a fantastic site for lovers of the most ferocious sexually aggressive doms in the world. These dominant men love to give orders which have to be obeyed!