Mike Burbark is a 21-year-old dude and he's still in college, with about one more year to go. Mike says he is an ordinary guy who enjoys life on campus and he likes to chill with his mates. Mike is definitely not ashamed of his body and he gladly shows it off for anyone who wants to watch.
He says he just imagines that he is in his house and walking naked, which he actually does in front of his roommates. Yep, this straight lad does not have any hangups about showing his naked body to his roommates.
Mike has beautiful eyes and naturally well-built body, with lots of yummy hair on his chest. His dick is sizeable and totally stiff when it gets hard. It is like an iron stick, pointing straight to the sky.
Mike says that he loves to jerk off – often. That's something I found particularly cute as a testament of his honesty. All guys jerk off often, but not everyone will admit it.
Mike takes out his dick and begins to wank off. He gets totally lost in his world of jacking off, he is just completely "out there" – engulfed by the feelings of being a hopelessly horny fucker that he is.
He shoots his load of cum and we can see it dripping down from his fingers and hand while it glistens on the light. Mike breathes heavily and there is a cheeky smile on his face.
Short preview video: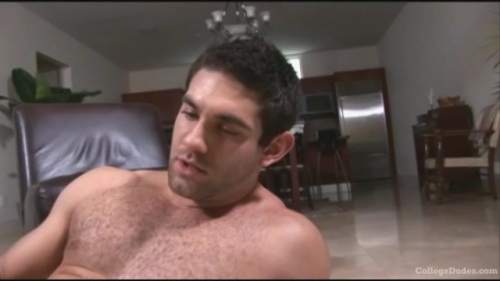 Click here to watch his entire video in perfect HD quality at College Dudes!
College Dudes is one of the best and coolest sites that feature hot, amateur college boys. These guys are truly new and amateur, you probably will not have seen them anywhere else. Some sets feature a guy simply showing off his young, chiseled body, while others have two guys paired in some hot action. Check it out – there are many, many updates indeed.