We've already met Ramsey. He is a blue collar guy who installs dry wall so he is a real macho type of guy. He already saw how great it is to have a dude suck your cock, and he couldn't get that feeling out of his head. It was so much better than when a girl does it.
So… Ramsey was pretty eager to try it again and use another guy's mouth and throat for his own pleasure. His present girlfriend allows him to fuck her any way he wants, but dick sucking is out of question for her. Nevermind! That's why cocksuckers like Trey exist in this world – to satisfy macho straight men like Ramsey.
When he contacted us he was in NJ riding his brand new Harley. He gave us a call from his hog and asked if we had anyone available to give him head, or should he go to a truck stop to empty his balls?
We told him to drop by and we'll have a special cocksucker for him to serve as a repository for his cum load.
Ramsey arrived in his leather jacket, jeans and he wore big and tall boots. When he took off his shirt we could see his beautiful hairy chest again. He slowly dropped his jeans to reveal a big, hairy cock – a perfect prize for Trey to worship.
Ramsey has never experienced Trey's mouth before. It was a new sensation but he got used to it in no time. When he was near the point of no return, Ramsey just breathed heavily, moaned in his low masculine voice, and shot his entire load directly into Trey's throat! We could only see some drops of cum later, but the bulk of the load went into Trey's throat. Pure hotness.
Short preview video: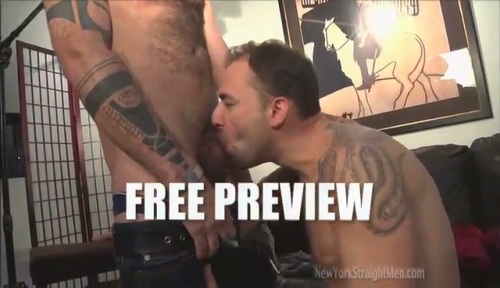 Click here to watch his entire video in perfect HD quality at New York Straight Men!
New York Straight Men is the world's biggest collection of straight men getting their blowjobs from gay dudes! These men are usually truly straight but they love getting head from a gay guy because it feels so much better than whatever their girlfriends can do. These men are not the Hollywood type cuties, they are Real Men!