About 18 months ago we had the pleasure of showing you hot, masculine Mailman JJ with ginger hair and irresistible big juicy dick. I am very glad that he is back and hornier than ever!
JJ is definitely a macho dude, he looks like a typical blue collar with his wife beater shirt. He likes to drink beer and get as much sex as possible.
Today he just wanted no-strings blowjob. He remembers from his previous visit to us that our cocksucker can suck dick much better than any female so he was pretty happy about it. But he has this business attitude about him, and just wants to get things done, without any unnecessary chatter or niceties.
Cocksucker Trey understood this right away and went on his knees. JJ unzipped his fly and whipped out his big dick that was already hard. Then he just stuck it into Trey's mouth, without much.
Our cocksucker was professional as always and put his mind, body and soul into giving the best possible blowjob he could. JJ started to groan and moan and Trey knew he was doing it the right way. Then JJ sat down and ordered the usual blowjob, i.e. to be serviced.
After some time JJ stood up and shot his load over Trey's face. Then he thanked us and just went through the door. Trey was satisfied with the job well-done, and the pool of sperm on his face was the proof.
Gotta love these mean-looking macho straight mailmen!
Short preview video: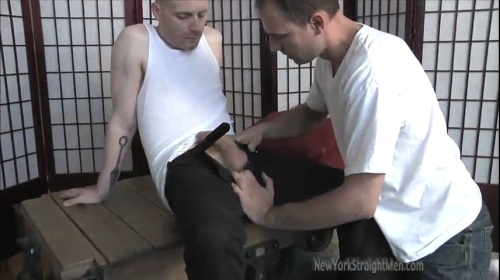 Click here to watch their entire video in perfect HD quality at New York Straight Men!
New York Straight Men is the world's biggest collection of straight men getting their blowjobs from gay dudes! These men are usually truly straight but they love getting head from a gay guy because it feels so much better than whatever their girlfriends can do. These men are not the Hollywood type cuties, they are Real Men!