Nick is a hot young dude from the UK and he's been on several porn sites in the last few years. He has quite a lot of devoted fans who love to watch him getting naked and playing with himself.
But, this is the first time we get to watch the REAL Nick Cheney, his personal portrait, not him playing any specific role.
He discloses some pretty hot stuff, some of which I never even thought of!
What's your personal preference about Nick – his impeccable torso, his dick or his face? Let him know by subscribing to Rate These Guys and contact him directly there!
Preview video: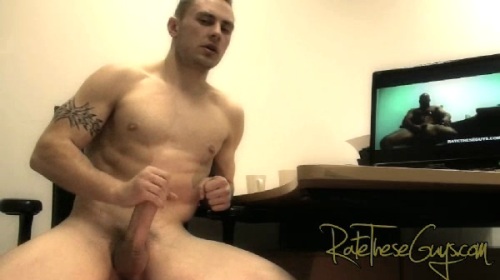 Click here to watch or beat off to his entire videos at Rate These Guys!


All these hot straight boys on RateTheseGuys are desperate to earn high ratings on their videos, and YOU have CONTROL over how much cash they make and what they do in the future. Create CHALLENGES for them, leave explicit comments and interact with your favourites.
Rate These Guys is a brand new porn site for lovers of cocky, hot straight guys. The principles and rules are simple:
YOU:
The guys make videos.
You comment on their videos, as explicitly as possible.
You offer to give them a high rating.
The more they satisfy you, the higher the rating they get from you!
THE GUYS:
They shoot themselves on video.
They send the videos in.
They read your comments.
They try hard to please.
…And the guy who receives the highest rating…. WINS!