Frazer is another hot masculine lad we present you today at Rough Straight Men. He modeled for some mainstream sites before but when he saw he could make the same buck with porn there was no turning back.
Frazer is a typical hot straight dude, he plays football in a local team and at night he runs a heaving nightspot. He loves sports very much and considers it essential for man's healthy life.
At night he works as a barman. I hope we'll see him once at his workplace, that would be so hot.
Frazer is hairy all over, I love his 3-day beard and hairy chest. He is a man's man for sure. His cock is sizeable and that foreskin is way too hot when he pulls it. And who wouldn't be turned o by his handsome face and that dreamy smile?
Let's enjoy in this episode with Frazer in which he shows off his whole body and fulfills wishes of his viewers (that could be you if you join Rate These Guys!). Some of the wishes include that he cums on his toothbrush and brushes his teeth with that.
Another viewer asked Frazer to cum on the table and lick it up to the last drop. Frazer fulfills all these wishes and hopes that you'll vote for him!
Short preview video: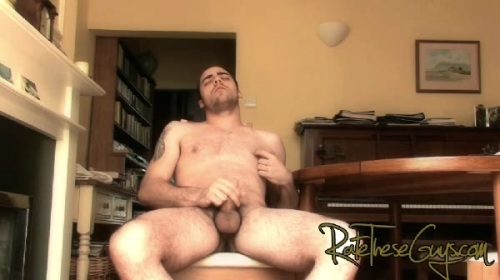 Click here to watch or beat off to his entire videos at Rate These Guys!


All these hot straight boys on RateTheseGuys are desperate to earn high ratings on their videos, and YOU have CONTROL over how much cash they make and what they do in the future. Create CHALLENGES for them, leave explicit comments and interact with your favourites.
Rate These Guys is a brand new porn site for lovers of cocky, hot straight guys. The principles and rules are simple:
YOU:
The guys make videos.
You comment on their videos, as explicitly as possible.
You offer to give them a high rating.
The more they satisfy you, the higher the rating they get from you!
THE GUYS:
They shoot themselves on video.
They send the videos in.
They read your comments.
They try hard to please.
…And the guy who receives the highest rating…. WINS!