by Ben Daniels (Admin) on Sep.26, 2012, under New York Straight Men
Scott is a Physical Education teacher in a high school in Bronx. He also lives in Bronx with his girlfriend. You can't get a more straight dude than Scott, and we really enjoyed having him here for a blowjob.
Scott expects to marry his girlfriend in the upcoming months. He told us he really hopes she won't find this video by accident because she might think that just about anybody can suck his dick. Well maybe not just about anybody can but many would like to!
Scott has a very nice body, well-built as you would expect to find in a Phys Ed teacher. His grin is epic and you can tell that he enjoys while being sucked off. Not to mention those amazing blue eyes that can melt just about any heart.
Scott told us he wanted a good nice blowjob and that he would like to cum in the cocksucker's mouth. Well, our moto is "Straight guys must be properly serviced", so there was no objection to his demands!
Scott stood there like a rock and just let Paul suck his dick the best he could. Paul goes on his knees and pulls down Scott's shorts to reveal a nice blond bush and soft dick.
Soft dick is a special treat for all cocksuckers because they can actually feel it growing inside their mouth. Paul was a very conscientious cocksucker and gave his best. After some time Scott decided to sit on the sofa and just chill there while Paul brings the job to the completion.
Scott's wish to cum in the guy's mouth was fulfilled, he dumped his load straight into Paul's eager mouth.
Preview video:
Click here to watch his entire video in perfect HD quality at
New York Straight Men!
New York Straight Men is the world's biggest collection of straight men getting their blowjobs from gay dudes! These men are usually truly straight but they love getting head from a gay guy because it feels so much better than whatever their girlfriends can do. These men are not the Hollywood type cuties, they are Real Men!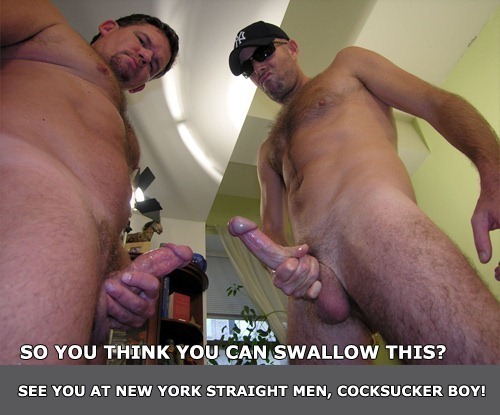 :blowjob, cum eating, facial hair, fit body, masculine, muscled, Scott, Serviced, shorts, sports, straight guys, tough guys, wife-beater shirt