Those of us who follow porn sites carefully for many years will probably know that Dink Flamingo sold his flagship site Active Duty several years ago. And for the money he got, he bought a farm in his home state of North Carolina. While he was in a local Walmart, he started to reminisce about the olden days while he was shooting and directing videos for Active Duty. And he realized that he really missed a lot about that, including all the fun they had and the models and the interaction with the site members. His mission was simple yet effective: to create a place where military guys could show off for the camera and those who loved, admired and lusted after them could enjoy watching and interacting with them.
Another trip to Walmart proved to be quite productive and interesting because he found several new hotties there which would be perfect for his videos. As luck would have it, it turned out that they were a platoon of Paratroopers. That's quite apropos since his first videos on AD were also with the fearless Paratroopers! One of his journalist friends (in)famously said once, "Paratroopers are no pussies when it comes to dick!" Mark Simpson from England flew all the way to North Carolina to do a story about Active Duty for Details magazine, and since he likes to research his subject matter rather thoroughly, he ended up in the middle of two paratroopers in a super hot threesome scene which was later released on the DVD with the title "Call of Duty".
After having thought about AD, Dink realized that he had to contact someone  at the current AD management to ask them if they'd be interested in sharing some of his recent recruits with the site members. Sure enough, a positive response soon arrived and the current production crew headed by Major Woods and Private Parker were right on it. Since Dink hadn't filmed anything in years, and had only his old trusty dusty camera, he started filming with that, but the technology has moved on and now that we can watch videos in 4K his old camera just doesn't cut it anymore. Major Woods and Private Parker offered their help and sent Dink a new camera right away. However, several scenes had already been filmed with the old camera before the new one arrived. And to discard such hot scenes just because of the camera used was just out of the question. So have some patience with Dink until he gets used to the new camera…
In the scenes that were filmed the first we can see newcomer Sebastian Woods. He's quite a hottie and he has a true monster cock between his legs! He's very kind, too and it's a joy to work with him. Sebastian had already "crossed the line" and had sex with other guys. In this video we get to watch Sebastian's hot solo jerkoff scene.
Preview video: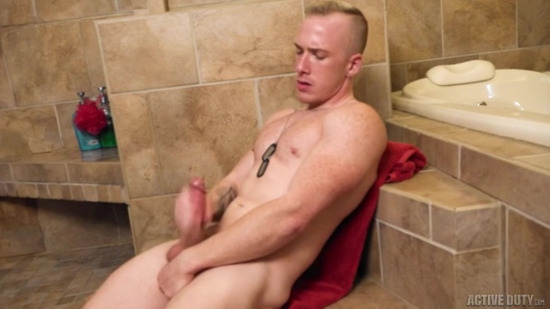 Click here to watch or download their entire video in HD quality at Active Duty!
Active Duty is a great porn site that specializes in younger military men and uniformed studs in general. These men are usually real amateurs and you will see them only here. Ripped, muscled studs in the army and their insatiable sex drive!
Active Duty is one of the oldest gay porn sites – but it has been recently updated and overhauled and now it looks brand new! Also all the videos are from now on in 2000 bit HD quality – so you can watch them even on your big TV screen!