Scott is a young, totally straight guy in his early 20s. He spends most of his time working out in the gym and going to parties where he can find hot girls. He is perpetually horny and, by his own admission, he thinks always about sex.
He hasn't had a steady job for quite some time, so obviously he is a bit short on cash. His buddies told him that he could try some modeling or shooting porn. If he can fuck hot women that would be a big bonus as well. So that's how he found his way to our office. This is his very first porn audition and very first time to be completely naked in front of the camera. I really hope not the last one, because this guy is steaming hot! He's both cute and tough, especially when he looks at you with those dreamy blue eyes that seem to be lost somewhere in the distant past or distant future.
He comes across as a bit shy, but I'm sure he'll get over that soon enough. Such a great, manly stud. I hope to see him in the upcoming porn films.
Preview video: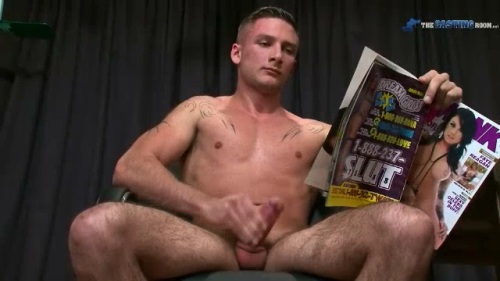 Click here to watch Scott's entire jerkoff video & his whole interview in HD quality at The Casting Room!
The Casting Room (formerly known as First Auditions) is a great, original porn site that showcases young, cocky straight men who would like to become porn stars and make loads of cash. They think that they'll be accepted right away and be able to fuck lots of girls, but they don't know that our casting director is very strict and wants to fully inspect them during the audition. He orders them to get fully naked, show their ass, and jerk off so that we can clearly see the cumshot. Plus, we get to hear all their fetishes and what turns them on.