Beefcake Cory is probably the most cheerful and happy beefcake that Victor has had the pleasure to service. Cory comes across as a confident, smiley and very considerate dude. He is very well-built, with plenty of nice hard muscles, which is no wonder since he works out twice a day.
Although Cory didn't mention it first, Victor sensed that Cory has some Latin blood running through his veins, and he was right. It turns out Cory is half White and half Latino. He is from up north but he moved to Florida several years ago. He says that he loves Florida, because the choice of girls is amazing. He gets to meet many people (and especially girls) because he works as a Lifeguard. He also has an internship as a businessman, and that probably explains the type of clothes he chose for this occasion.
Cory started to smile from the very beginning, from the moment Victor opened the door for him, and he kept smiling almost throughout the whole video – even while he was cumming! Cory is pretty much a complete package, and he ticks every box when it comes to qualities one would expect in a hot strong man. His face is handsome, he is quite well-ripped on the upper body, and his legs are very hairy and strong, too. This last thing (hairy legs) pushed Victor over the edge and made him extra aroused because he loves hairy legs.
Victor says that he also digs Cory's choice of underwear – makes him look very manly. And his balls are quite big – what a lovely surprise! When you have a guy with big balls and hairy legs it's quite a treat to have the opportunity to service him. No wonder that Victor claims he was in Beefcake Heaven!
Cory's cock was pretty quick to respond to Victor's mouth, and it soon became rock hard. Unlike most of the other guys who become very serious and/or overwhelmed with desire while they're getting head, Cory just kept smiling even though he was obviously aroused. And like we already mentioned, there was a smile on his face even while he was cumming!
It looks like Cory will be spending quite a bit of time in the Beefcakehunter's studio in the following months. This guy is definitely a keeper!
Preview video: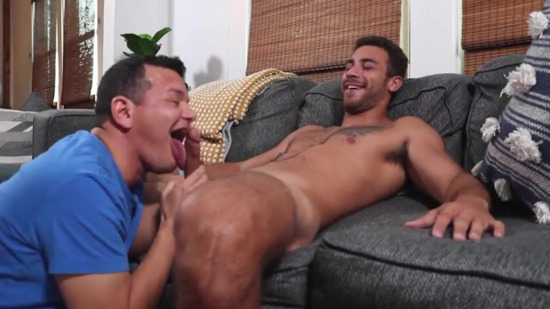 Click here to watch or download their entire video in HD quality at BeefCakeHunter.