Dante Ferrari is a cute, ripped soccer player. He is 5'9'' tall (175 cm) and weighs 170 lb (77 kg). He is in top form and loves to go around the Magic City with his adidas soccer ball.
He has dark hair and bedroom eyes that virtually do the inviting to bed with him. He is pretty masculine and looks somewhat mean and tough. But when he smiles you just want to kiss him.
We first meet him outside while he's doing some push ups and dips. Then he takes off his shoes and shirt so we can appreciate his muscled manly body. He has very nice, big feet.
After some running he appears again and now he's horny and ready to show us his manly assets. He lays back in the chair and pulls his legs back so we can have a good look at his hairy, virgin straight asshole.
Next, he starts playing with his cock and he really gets into it. He starts sweating, panting and breathing more deeply. He shoots his hot seed on his six pack, pubes and hands. His cum is dripping down slowly from his dick, and the next moment he's gone. Probably to do some more soccer training.
Preview video: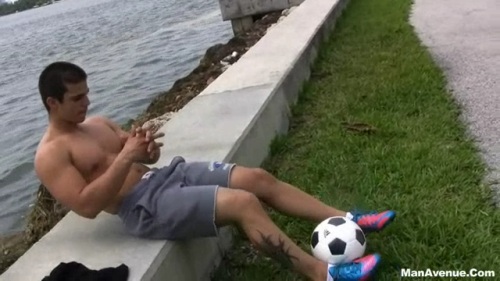 Click here to watch his entire video in HD quality at Manavenue!
Manavenue is an exceptionally good porn website that features masculine, cocky, muscled, powerful straight men, the type of guys that grab your attention while you're secretly ogling them in the street or in a supermarket. These tough motherfuckers are aware of their sexual appeal and want to show you everything they've got.