by Ben Daniels (Admin) on May.15, 2013, under New York Straight Men
It was this early morning that I thought to myself, "Damn, there hasn't been a good hairy man I could blog about for ages." And really, since Tony from NYSM, I don't recall seeing an all-around hairy and masculine straight man being sucked off.
As luck would have it, today I can present hairy Michael! Michael is hairy all over, and his manly, well-built body emanates pure masculinity. I mean, he's the real deal if you're after hot bears. Add to that the fact that Brock would be sucking him off (and he's also a hairy straight man) and you have a recipe for Heaven.
Michael told me he would be coming straight from the gym. He appeared on our door and as soon as Brock approached him, Michael's "Nike" T-shirt and jeans disappeared to reveal his godly, hairy masculine body. He had only a jockstrap on himself and I think he looked more than sexy in it.
Don't forget that Brock is also straight, he's doing the job of a cocksucker mostly to pay off some money we lent him after he had spent a little fortune on his woman.
Brock turned out to be a fantastic cocksucker, which goes to show that men really know how to suck another man's cock better, and that sexual orientation doesn't matter. We just love cock, and know how to deal with it. And we also have a bigger mouth and throat cavity so we can swallow larger specimens!
Speaking of which, Michael's cock is just about perfect! It is rather big, but also thick and when it gets hard it stays hard. It's very stiff and Brock told me it does pulsate in one's mouth. In short, a perfect dick to suck on.
At the end of this serviced video, Michael said that this was among the 5 best blowjobs he had ever had. Not bad for cocksucker Brock!
Click here to watch their entire video in HD quality at New York Straight Men!
New York Straight Men is the world's biggest collection of straight men getting their blowjobs from gay dudes! These men are usually truly straight but they love getting head from a gay guy because it feels so much better than whatever their girlfriends can do. These men are not the Hollywood type cuties, they are Real Men!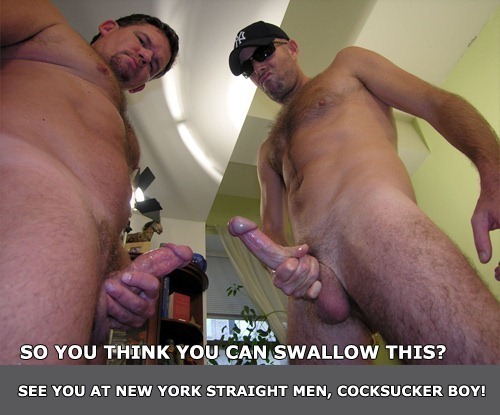 :bear, beard, big dick, blowjob, brock, fat cockhead, hairy, masculine, Michael, muscled, Serviced