Today we have Jarred and Cooper. Jarred is a bisexual dude. He's 26 years old and his height is about 6 feet (182 cm). He looks pretty manly and his fit body is a joy to look at. I asked him how he maintains such a great looking body and I was pretty shocked to learn that he doesn't really work out that much. Jarred says he eats fast food (such as pizza) all the time but, in his opinion he has great metabolism so all that crappy food doesn't affect him so much. Damn! I wish I had such metabolism. I wouldn't have to lift weights and run around my building like a maniac in order to have a body in shape so I can get laid. Some things are defo not fair in this life lol.
On the other hand, our straight boy for today is Cooper. He is totally straight and likes to work out all regularly. He runs 6 days a week in order to shed excessive weight and works out in the gym regularly. But, oh, those blue eyes are the killer – I must admit I was floored when I saw Cooper's sexy stare with his beautiful blue eyes.
When I introduced the boys to each other they were very civil in the anticipation of the female performer which Cooper thought would come. But, as is usual in our movies, I have to tell them that the female performer won't be able to come so they will have to fuck among themselves – for a bigger amount of money.
Sometimes I'm kinda sad to tell these things to straight boys. They feel so eager to fuck a pussy. For instance, today I told Cooper that he should fuck a female actor together with Jarred in a DP (double penetration) scene. He was all for it and hot excited beyond measure. He asked me additional questions about DP and so on. But, life is life and we have to stick to our rules.
As soon as I said that the female performer won't be coming, Cooper got nervous and was almost ready to leave the scene. But, since he was so aroused by now, and his wallet isn't full, he persisted and wanted to know more about my new proposal. Cooper was horny and he wanted to fuck something – be it a male or female pussy. I like that determination in our straight guys.
It's obvious that these two guys were horny as fuck. As soon as they both conceded to the new rules, I could tell that the fiery lust between them was growing. For Cooper this was going to be his very first gay experience and I was looking forward to seeing him fuck Jarred's ass.
The two guys first exchange blowjobs. Jarred swallows Cooper's big hard cock without any problems, and Cooper returns the favor by swallowing almost all the 7,5 inches of Jarred's manmeat. You just can't get better cocksuckers than men – we have bigger mouths and throats and, what's more important, we just love the cock and the way it feels in our mouth. Even if one is straight, he will have more natural talent for sucking a man's cock than any female.
After some more cocksucking, Cooper bends over Jarred and starts fucking him in the ass. Jarred was so horny that he was on the verge of cumming only 20 seconds after having been penetrated by Cooper.
Cooper increases the speed of his thrusting and brings Jarred to the point of no return. Jarred shoots a nice, big load of cum on his stomach.
Cooper follows the suit and pulls out suddenly. He removes his condom and shoots his big load all over Jarred.
Preview video: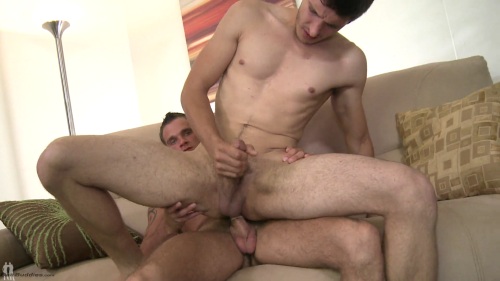 Click here to watch their complete video in HD quality at Bait Buddies!
Bait Buddies is a pretty hot straight guy site with plenty of updates and some very hot guys indeed. There is always a "bait" dude who is bi or gay, and a straight (or sometimes "straight") dude who needs to be seduced into gay sex.