by Ben Daniels (Admin) on Oct.12, 2013, under SethChase (Porn Actor)
Jacob Mather is a cute, 19-year-old straight guy who had never had any experience with another man. This was his very first time to get serviced by a guy, and also his first time to shoot his load into someone's mouth.
When he appeared on our door, Jacob was pretty nervous and concerned whether he'd be able to get it up. But, I told him to just concentrate on the pleasurable feelings of his cock in my warm mouth, and everything went well. He gets his member fully hard in no time and I start licking his shaft from the balls to the tip of the cockhead. Jacob's cock is pretty big, but I really like this size, it's just perfect for sucking. I mean, when you swallow it, it will tingle your tonsils.
I also devoted due attention to his hairy balls that were brewing his seed and I suck them a little. I like it when guys don't shave their pubic hair, I mean what the hell? Why would you even think about shaving it off when it looks so damn gorgeous (the same applies to beard). Jacob's pubic hair is blonde and I loved the scratchy, tingling sensations it was making on my face.
While sucking on this beautiful big dick, my own dick became hard so I just had to whip it out and jerk it off. I slowly stroke my dick while swallowing Jacob's throbbing meat at the same time. After some time Jacob gives me a sign that he's about to cum, so in order to catch his entire load I put my face exactly in front of his weapon and the next moment my face got spunked with several big squirts of Jacob's jizz.
I readily take his dick in my mouth to collect any leftover drops of cum. Being spunked with so much straight boy cum made me cum myself and in the next few moments I shot a big load that hit the floor.
Preview video:
Click here to download their entire video in HD quality at Seth Chase!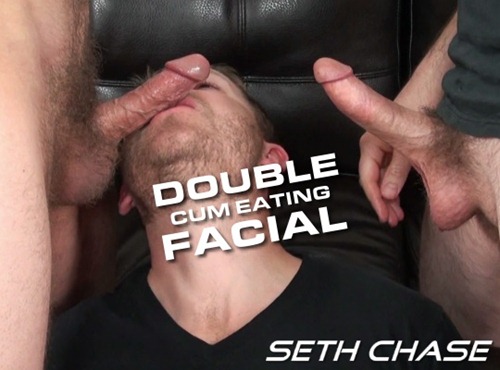 :beard, big cumshot, big dick, cum eating, first gay blowjob, Jacob Mather, Serviced, straight men