by Ben Daniels (Admin) on Sep.09, 2014, under SethChase (Porn Actor)
Colton has gone through several stages already – being a straight dude we suggested that he first get sucked off by some of us guys, then he sucked Seth's cock and Seth made sure that this curious straight boy gets his fair share of one of his copious cumshots. Colton duly swallowed the whole Seth's load and since then there was only one thing left for this eager curious guy – to get fucked and bred by Seth's raw cock.
When Colton arrived for this scene he admitted that he was amazed at the sheer amount of jizz that Seth unleashed from his cock last time. Although Colton has only topped girls so far, he said he was eager to try to receive his first cock and his first load of man jizz up his ass. I guess his dirty mind was busy imagining his ass being filled with one of Seth's copious loads. That amount of jizz would defo start overflowing and dripping out slowly from his manhole. Anyway, in short, Colton was really curious to see how that would go. He even bought some silly underwear that made things about his willingness to get his ass fucked a lot clearer.
First Colton drops on his knees and starts servicing Seth's already erect dick. There's some amount of precum already forming on the tip of Seth's stiff cock, and Seth uses it as lube to make Colton's hole slippery and nice and wet. Seth is fully aware of the fact that Colton has no experience in getting fucked, that he's only been a top all his life, so he knows that he can't fuck Colton too hard in the beginning. Seth starts fucking him deeper as the time goes by, and Colton gets into the correct pace pretty quickly. Colton is not hard, but I think he's really enjoying the ride!
Seth lies on the ground and Colton impales on his cock, and rides it for a while. Then the guys change position again and now Colton is on his back while Seth penetrates him from the front side and fucks him with very deep thrusts. Colton has gotten the hang of it by now and he's really enjoying his very first bareback pounding!
Seth gets rid of Colton's underwear and keeps fucking Colton harder and harder. Seth positions Colton in the doggy style position and continues to drill his ass. Seth is now on the verge of the point of no return and after a few thrusts his cock starts pumping his load deep into Colton's asshole. After Seth has pulled out of Colton's ass, Seth's semen starts oozing out slowly from Colton's ass.
Preview video:
Click here to download their entire video in HD quality at Seth Chase!
Seth Chase is the name of the porn site that is made by the same people as SUCKOffGUYS and BarebackPlace. Here. Seth Chase gives us his point of view (POV) of some of the blowjobs that he did or when other guys sucked him off. It's important to know that if you subscribe to Seth Chase you will automatically get access to all their sites too (SUCKOffGUYS, FUCKOffGUYS, BarebackPlace). The site has a lot of messy cummy facials and lots of hot men who obviously love getting their dicks sucked off or sucking other men themselves.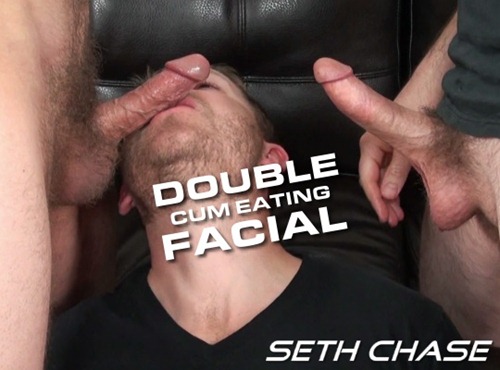 :bareback fucking, beard, Big load, Breeding, Colton Harris, curious straight guys, internal cumshot, Seth Chase