by Ben Daniels (Admin) on Jan.17, 2014, under SethChase (Porn Actor)
Self-proclaimed cum pig Seth Chase recently gave us his new compilation of the hottest loads which he swallowed in the past year or so. There are no less than 30 big jizz eruptions in this compilation, and all of them eventually end up in Seth's hungry greedy mouth!
Seth says that he's so devoted to his cocksucking art that he gets completely absorbed in the process, and the only thing on his mind is to get to the man's seed. He says that the art of cocksucking would be entirely pointless if he couldn't taste the cock, worshipping it from all sides and enjoying its musky aroma. The cumshot swallowing is a given, as that's the primary goal anyway. He likes both to has his face completely sprayed with the dude's cum, or to catch the squirting streams of jizz in his mouth or throat – wherever the guy's cockhead may be at the time of ejaculation.
Seth further explains that he simply adores the taste of man's cum. He loves the sensation of the jizz entering his stomach, being digested and while the man's essence gets converted into his own energy. Seth also admits that he can get quite slutty, and crave as many loads as is possible for a man to consume. For him, it's entirely irrelevant whether the jizz comes from a straight or gay man. If the guy is nice and cute and has lots of cum, it's his sacred duty to be his personal cocksucker. Quite often it happens (especially with straight guys) that they had never been sucked off by a man before, and naturally, they become quite astonished by his masterful cocksucking skills. There are guys who have never managed to cum while being sucked off by their girlfriends… they also get astonished, and Seth cherishes their puzzled surprised face expressions right after the blowjob. Some of them just can't believe what has just happened!
Gay dudes can be as much fun as straight men – they don't find the whole thing unusual and can get quite aggressive and get "into it" completely so they can fly high while being serviced. Seth says that his own cock is always rock-hard while he is servicing another man. It's stiff as a stick and ready to blow his own load, which usually happens right after the man who got serviced has ejaculated. Seth takes care not to miss any drop of semen that his men shoot, as he deems man's cum too precious to be lost.
Seth wants all horny men to know that if they ever feel the need to get blown, he will gladly take care of their cocks and swallow their load. If you want to empty your balls into this cocksucker's mouth, perhaps you should consider contacting him? Visit his site and who knows, you might get lucky…
Preview video:


Click here to download their entire video in HD quality at Seth Chase!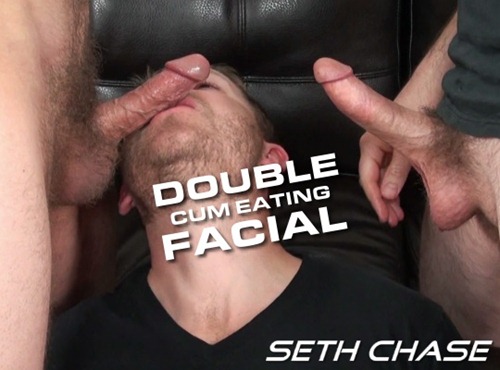 :beard, blowjob, compilation of cumshots, cum eating, ejaculations, Serviced, Seth Chase