by Ben Daniels (Admin) on May.26, 2013, under SethChase (Porn Actor)
Walker Michaels, Shane Stride and Seth Chase had a great suckoff session some time ago.
Walker and Shane walk into the room without saying a word and soon enough they remove their clothes to reveal massive hardons. Seth Chase was more than happy to service these two straight men, what's more he tried to deepthroat them and obey their orders.
Walker and Shane shove their big swollen dicks down Seth's throat unapologetically, and it's only a matter of time when Seth is going to be spunked with their loads directly into his face and mouth.
Seth tries to do "multitasking" between Walker and Shane's dicks. Both dicks are beautiful, hard and throbbing. Seth's own dick is fully erect, too, which is a sure sign that Seth is massively enjoying this subservient role of dedicated cocksucker. Seth takes out his dick and strokes it intermittently between swallowing Shane's and Walker's cock.
Seth had a feeling that Shane would be the first to bust a nut, so he put his head just below Shane's fuck stick and let Shane's load land on his face. Most of the jizz actually hit Seth's tongue (just the place where it's most suitable). Shane growls and grunts while squeezing the last few drops of his semen onto Seth's eager tongue. Seth swirls Shane's cum in his mouth, then swallows it all. Then he took Shane's cock again in his mouth to ensure that all the drops of the precious liquid have been licked and swallowed.
Walker was exceptionally turned on by the sight of his buddy Shane cumming in my mouth. I approached Walker's dick, with my mouth still containing Shane's cum, and I start sucking Walker's throbbing manhood. He knows that I bring him Shane's cum as well, and that really made him horny as bull.
Not long after this, Walker starts shooting his cum in Seth's mouth as well. Seth takes it all and swallows every drop. Seth takes Walker's cock which is still oozing with cum and licks it dry.
After both guys have been serviced, Seth takes a bit of cum from them both, and rubs it into his own cock. Then Seth strokes his cock until it starts shooting his own jizz.
Nothing better than using other guys' (or your own cum) as lube. Both straight guys were very happy and felt relieved after they shot their loads into a gay guy's mouth (Seth's). Gay dudes love to swallow both straight cock and straight cum, and straight guys love to get their dicks and cum swallowed, which they rarely get from their women who are often repelled by cum. Well, we gay guys don't have that problem. We love cum and love to swallow it.
Preview video:


Click here to download their entire video in HD quality at Seth Chase!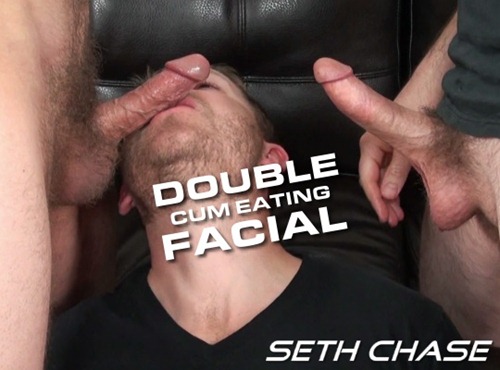 :beard, big dicks, cum as lube, deepthroating, hairy, jerking off, masculine, muscled, Serviced, straight guys, swallowing cum, Walker Michaels