by Ben Daniels (Admin) on Mar.27, 2014, under New York Straight Men
According to Murphy's Law, "Anything that can go wrong will go wrong." And sure enough, it did in our case. We wanted to make a hot 3-some last weekend but our main camera broke down, and we had to make another recording.
The first shoot was unusable, and we had to reshoot the entire thing all over again in a few days' time. We strive to bring you hot straight guys within regular time frames, in other words, regular updates no matter what happens, and this time it was no different! I'm not sure if we had an invasion of those pesky Gremlins or what, but we have been really unlucky as far as technical things are concerned lately. So, anyway, we sent the camera to the repairmen, and we bought a replacement HD camera which cost us almost the same as the original one. We called the guys back, but Sean couldn't make it, and …. you know, it was already time to put this video up for our viewers so here it is, in its raw format.
So here (again!) we have two straight guys and our main cocksucker is missing because he was somewhere in Jersey and stuck in there, unable to come back home. Talk about bad luck!
However, unplanned things lead to unplanned pleasures – and as you can clearly see in this amazing new movie, these two straight guys didn't mind the fact that our gay cocksucker was missing. A man's gotta do what a man's gotta do, and there's no way around it! Both of these guys are totally straight, and they both have girlfriends at home (actually Brock has a wife), but that didn't stop them from having some really hot fun together. There was kissing, facefucking and more! Of course, their female counterparts had absolutely no idea what these men were doing with each other… I guess they thought they were playing football? Anyway, please do enjoy this uberhot mutual blowjob scene between
Preview video:


Click here to watch their entire video in HD quality at New York Straight Men!
New York Straight Men is the world's biggest collection of straight men getting their blowjobs from gay dudes! These men are usually truly straight but they love getting head from a gay guy because it feels so much better than whatever their girlfriends can do. These men are not the Hollywood type cuties, they are Real Men!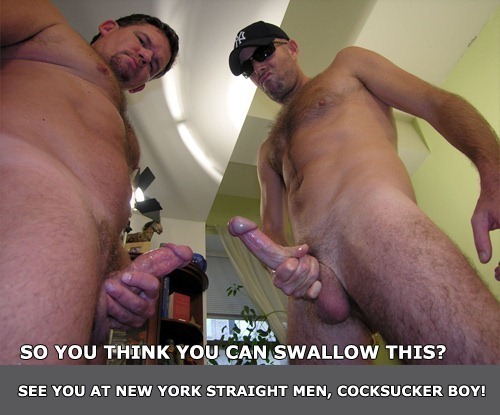 :beard, big dick, brock, face fucking, hairy chest, kissing, married men, muscled, Mutual Blowjob, Ramsey, straight men