Hairy Cuban cub Fernando is back once again, and this time round he looks even hairier than before! We love hairy men and I think his new look suits him perfectly. Fernando has been in front of the camera twice before on Baitbuddies – first time he had his first experience with another dude, and although he was a little bit disoriented at first (his strict Catholic upbringing must have played a part in that I suppose), things went pretty well. He seems to have liked it so much that he soon called the casting director (Caruso) and asked him if he could do some more shoots.
Although nothing has changed as far as his sexual orientation goes, this time round Fernando wanted to be the bait for straight dude Dimitri (. Fernando needed a lot of money rather fast, so Caruso told him that, in order to get paid the double amount, he would have to get his ass fucked by another guy. As luck would have it, not only did the first anal experience go very well for Fernando, but he really liked the feeling of a hard cock buried deep in his ass so much that he told us he'd like to repeat it. So it's no big wonder that Fernando called again a few days ago and told us he'd like to get fucked in the ass again, but this time by his straight buddy Armando. Now, Armando is also a Cuban, but he came to the US via Venezuela, whereas Fernando came via Spain. They didn't know each other while they were in Cuba, but as soon as they met here (in 2009 at an English class for non-native speakers) they became the best buddies. These guys came to America with absolutely no knowledge of English but as you can see they managed to find the happiness and good life in a relatively short time in the USA.
They mostly spent time together only during the classes, and phoned each other sometimes. Several times they went to some clubs to find fresh pussy. Which was probably not too hard for these two young men, considering the fact that they both look pretty sexy. Armando is particularly my type of man, cause he's not only handsome but very well-built, with plenty of ripped muscles, and he's got the attitude as well. Armando surprised everybody when he whipped out his gorgeous 8-inch cock and started wielding it like a sword in the room. Armando is defo a cocky boy, he loves to show off all the time, and he's probably aware of how he looks even while he's fucking somebody. But he's such a sweet and humorous dude that he never comes across as vain.
During the short interview in the beginning, Caruso asks the boys if they ever thought about gay sex. Armando adamantly says "No," and adds that he never even thought of it. It seems that Armando really didn't quite know what was about to happen. Well, he's lucky to have Fernando for a teacher! Fernando made sure to explain every little detail that he learnt during his first bottoming session to his friend. Fernando removes Armando's t-shirt and before you know it, Armando is already strutting his stuff and flexing his muscles. He signals to the cameraman to focus on his pecs and nipples and adds jokingly "no silicone". Cocky mofo!
Fernando drops on his knees and starts to stroke it, then swallows it into his throat. Armando's cock gets hard in no time and soon enough he's sporting the full eight inches (20 cm). Caruso reminds Armando that it's now his turn to hone his cocksucking skills on his bearded friend. At first Armando protests and says "I never suck cock before!", and makes such funny grimaces. He asks for additional money if the director wants to see him suck that dick. The very next scene shows Armando with Fernando's cock in his mouth. Fernando thinks that his friend has a promising talent for cocksucking, but I'd say that Armando probably isn't born to be a good cocksucker. Anyway, even Armando wasn't satisfied with his performance as a cocksucker, but things might change for the better!
It was hot and horny to watch these two boys with erect cocks standing there next to each other. The guys fool around a bit more with their "swords" and then Fernando tries to do some frotting action with Armando. He tries to slide his foreskin over Armando's cockhead, but Armando is still reacting impulsively and backs off too often. Caruso wanted to see Armando getting fucked, and although Armando kinda agreed to that earlier, he withdrew his consent at the last moment and said, "it's not a bitch ass, not even for ten thousand dollars". That was not bad news for Fernando, though, because he really wanted to feel that big cock in his ass! So Fernando gets on all fours and exposes his man hole for Armando's big rod. Armando wasn't terribly gentle with his buddy and fucked him nice and hard. He even jackhammers and nails it in, if you know what I mean. Fernando could only groan and moan, blabbering from time to time things such as "you fuck like a machine".
Fernando changes the position, lying on his back while Armando is plowing his ass from behind. Soon enough Fernando screams "you're gonna make me cum", which made Armando even more aggressive. The guys speak something in Spanish, and then Fernando shoots his load. Armando pulls out, removes the condom and shoots his jizz all over his friend's body. The next moment we see Armando smiling and flexing his muscles… and then he says "I need to fuck another man… it's tight".
After something like this, It comes as no surprise to hear Fernando's "confession" that he prefers cock to pussy these days!
Preview video: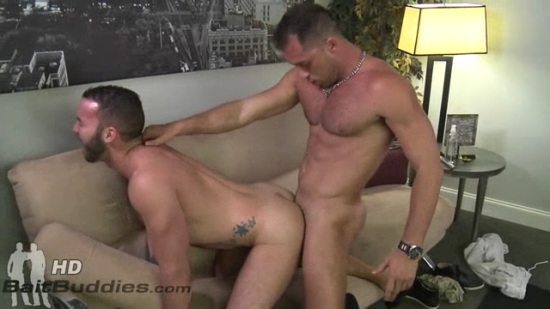 Click here to watch their complete video in HD quality at Bait Buddies!
Bait Buddies is a pretty hot straight guy site with plenty of updates and some very hot guys indeed. There is always a "bait" dude who is bi or gay, and a straight (or sometimes "straight") dude who needs to be seduced into gay sex.