by Ben Daniels (Admin) on Apr.18, 2014, under SethChase (Porn Actor)
Although Seth Chase is certainly no stranger to the role of a professional cocksucker, he's most well-known for his own huge cumshots and that ability is best demonstrated while someone else is sucking him off. He particularly enjoys shooting his load straight into the cocksucker's throat. In other words, as much as he's a hungry cum pig and loves swallowing other people's semen, he also loves getting properly serviced by another dude.
In this video, his partner Aaron French drops to his knees and starts worshipping Seth's cock. There's no unnecessary talking or any other shit – the guys proceed to the heart of the matter straight from the get go. Seth just sits there and passively waits for Aaron to show his magic and take care of his erect dick. Aaron seems to be spellbound by Seth's beautiful boner and greedily takes off Seth's belt to allow for an easier access to his cock.  Aaron has sucked many a cock during his long and productive cocksucker's career, but the excitement and awe while he's in front of an erect dick is always there – exactly the same like on the very first day he did it!
Aaron takes the matter into his hands and mouth, and sucks Seth's tool professionally so that Seth is brought to the edge quite fast. Although Seth can withhold his cumshot for some time (he's been practicing) so that the man who sucks him off can have more time at his disposal to savor his cock, Aaron was so impatient to extract the seed from Seth that it was just a bit too much to withstand for too long. Seth soon explodes and shoots a very nice big load. Aaron aims Seth's cockhead directly onto his lips. Big streams of warm semen are ejected from Seth's cockhead and go straight into Aaron's ever hungry mouth. There is still a lot of sperm all over Seth's dick and Aaron tries to lick it up all and swallow every last drop of the precious liquid. Aaron is licking and worshipping Seth's spent dick as long as there is any remaining drop of Seth's jizz. Aaron then proceeds to lick his hands and swallow that as well. He's certainly a very thorough cocksucker.
Preview video:


Click here to watch their complete video in perfect HD quality at SUCKOffGUYS!
SUCKOffGUYS is a very interesting and hot amateur gay porn site that focuses on blowjobs, cum eating, cumshots, cum play and all things cum! The site owners are obviously total cum pigs and it shows. Be sure to check them out if you're into beautiful hard cocks, blowing stiff rods and sperm in all varieties.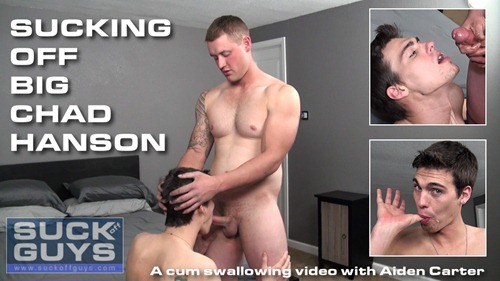 :Aaron French, beard, big cumshot, big dick, blowjob, cum eating, Serviced, Seth Chase, sperm