by Ben Daniels (Admin) on Jul.26, 2014, under SethChase (Porn Actor)
You may remember the fantastic blowjob that Seth performed on big-dicked straight man Colton (you can see it here). As usual, Seth was a greedy cocksucker who not only did an outstanding job of servicing Colton in the best possible way, but also swallowed every last drop of his semen.
In this video the tables are turned and now it's Colton's turn to return the favor. Colton gets on his knees and swallows Seth's beautiful stiff cock. Colton is a beginner as far as cocksucking is concerned, but he learns fast. As soon as Seth's cock was totally hard Colton already "got it". Colton even goes on to deepthroat Seth's erect dick, and this made Seth so horny that there appeared some clear transparent precum coming out of his cockhead. Colton never tasted precum before and he finds its taste interesting: salty and yummy.
Seth now face-fucks Colton's mouth and throat. Seth takes his cock and strokes it a few more times. Seth could feel it coming – a big load was about to be released and he felt it as a huge torrent of jizz amassing in his balls and getting ready to be squirted into Colton's mouth as a receptacle. Seth couldn't hold it any longer and started shooting his load directly into Colton's open mouth.
Several squirts splattered all over Colton's beard and lips. Colton doesn't close his mouth but keeps catching every squirt that gets in there. Eventually, it was a really messy and great-looking sight – Colton's bearded face totally cum-splattered and the other half of Seth's cum swalloed. Colton then takes a deep breath and takes Seth's cock in his mouth again – Seth's cock is still dripping with cum and there's a lot to swallow still. While Seth's cock is getting limp, Colton is still sucking it and squeezing every last drop of semen out of it.
We warned Colton that Seth's loads are usually quite big and that he would have a lot of jizz to play with, but he didn't quite understand what we meant by "quite big loads". Well, now he knows! And it's great that this was his first time to suck a man's cock and he got so much jizz to play with.
Preview video:


Click here to download their entire video in HD quality at Seth Chase!
Seth Chase is the name of the porn site that is made by the same people as SUCKOffGUYS and BarebackPlace. Here. Seth Chase gives us his point of view (POV) of some of the blowjobs that he did or when other guys sucked him off. It's important to know that if you subscribe to Seth Chase you will automatically get access to all their sites too (SUCKOffGUYS, FUCKOffGUYS, BarebackPlace). The site has a lot of messy cummy facials and lots of hot men who obviously love getting their dicks sucked off or sucking other men themselves.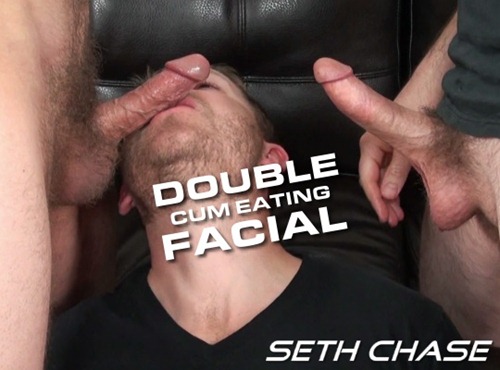 :beard, beautiful hard dick, big cock, big cumshot, blowjob, Colton Harris, facial cumshot, first gay blowjob, Serviced, Seth Chase