by Ben Daniels (Admin) on Apr.10, 2014, under LatinJocks
Holy cow! This is just the type of stud that we especially like to feature on this blog. Vincente is a big, very masculine, sexy and desirable man. He is very much into sports and spends almost all his free time playing football at the beach with his buddies. That's where we found him and made some exclusive and awesome shots.
Vincent also regularly works out in the gym and it shows – I mean just look at those naturally sculpted muscles, they're pretty much the definition of perfect. His chest is also somewhat hairy, not too much but quite enough. Oh, and let's not forget his exceedingly sexy amazing bubble butt that you'll want to study and slowly visually digest for a long time to come. Vincent's cock is also pretty large and thick, we thoroughly enjoyed taking photos of him while he was taking a bath in his bathroom.
So, first there's a sexy prelude where Vincent shows off his body in and out of soccer uniform at the beach, the way he usually looks while playing football. Then he goes inside his house to take a bath and lets our cameraman slowly explore inch by inch of his amazing manly body.
Click here to watch his entire picture set and video at Latin Jocks!
Latin Jocks is, as the name suggests, a great porn site and resource for lovers of superhot straight Latin hunks. These bad boys are usually handsome, masculine, very hung and potent, and can fuck for hours straight! The site itself has now over 600 naked men in their vault, so you're gonna have plenty of hot latin mofos to feast your eyes upon.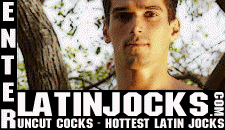 :big cock, bubble butt, hairy chest, handsome, masculine, muscled, outside, playing soccer, shower scene, soccer kit, straight men, Vincente