by Ben Daniels (Admin) on Jun.10, 2014, under TheCastingRoom
The second when Derek walks into the room one cannot fail to notice his pure, raw, masculine energy. He is a really rough and tough type of straight guy. You know you can't fuck with him because he would beat the hell out of you if you tried to do something dishonest or what he doesn't like.
Derek is not choosy about sex and sexual fetishes as long as women are involved, but he admits he couldn't do anything with a man. He just doesn't want to go there. Just talking to him was quite a horny experience for us because he exudes such a positive, no-nonsense type of man's energy.
When he takes off his clothes there is a faint but perceptible smell of a real man, and you know you're defo in the presence of an alpha male. His body is very muscled and built like a tank. Although his asshole might look to some people as if it has been ravaged many times, we can assure you that it hasn't even seen a finger, let alone a man's cock. He was very nervous when we even mentioned the possibility of him being touched by another man. Actually, when the casting director asked him to lift his legs up in the air (the position in which he might get fucked) Derek felt so awkward and unusual, although we thoroughly enjoyed shooting his asshole from different angles. The casting director is a pervy guy and he especially likes to make typical straight alpha males show their ass for prolonged periods of time, just because he enjoys putting them in such an awkward situation. What a pervert, hehehe.
Finally, we give Derek some straight porno magazines and he proceeds to jack off his nice, big fat cock. He strokes it until he shoots a nice, big, messy load of jizz that splatters all over a towel on the floor. Derek is not a person whom you'd expect to worry much about anything, and especially not to feel too emotional about sex. He just fucks whom he wants, when he wants, he's got his big fuck stick and he knows how to use it damn well.
Preview video:
Click here to watch his entire casting video in HD quality at
The Casting Room!
The Casting Room (formerly known as First Auditions) is a great, original porn site that showcases young, cocky straight men who would like to become porn stars and make loads of cash. They think that they'll be accepted right away and be able to fuck lots of girls, but they don't know that our casting director is very strict and wants to fully inspect them during the audition. He orders them to get fully naked, show their ass, and jerk off so that we can clearly see the cumshot. Plus, we get to hear all their fetishes and what turns them on.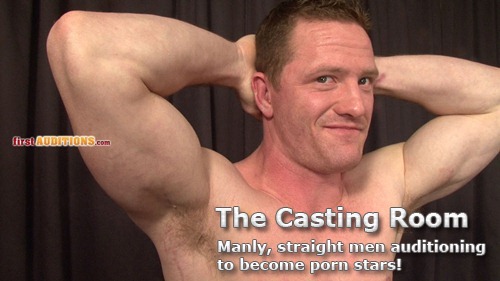 :amateur, Audition, beefy, Derek, jerking off, masculine, muscled, showing ass, smile, straight men, tattoos, tough guys