by Ben Daniels (Admin) on Aug.02, 2014, under HardBritLads
It doesn't happen very often, but from time to time we have two brothers in the same scene, and it's always interesting to watch such scenes. I've already posted a scene with Lee and his brother Sean when they visited The Full English site a couple years ago (you can see that post here although they go by different names there).
We first contacted Lee, who is a bit older and beefier of the two brothers, and he suggested that he bring his younger brother Sean. Of course, how could we say "no" to such an amazing idea!? Lee is now actively working out in the gym as a real bodybuilder, while his brother Sean is a bit less pumped up but still very hot and well-built.  Both lads are Irish and are proudly talking with a strong Irish accent. We get to listen to them for a while while they're being interviewed, they talk about their relationship as brothers and how they work out and keep their bodies in top shape.
Not long after that, their cocks seem to wake up unexpectedly in their shorts and there are visible bulges already. They take off their shirts and whip out their cocks. The guys are half-hard by this time and they're stroking their cocks slowly to make them fully erect. Lee has a bigger and thicker cock of which he's obviously very proud. He even makes it twitch from time to time, which looks so hot and sexy.
The guys proceed to jerk off together, side by side. Their cocks are fully erect and resemble two rockets on a launch pad. Both cocks are very straight and point upwards. When he was near cumming, Lee stood up as he wanted to show us his cumshot in all its glory (he usually cums a lot). However, Sean was the first to cum and he shot a really huge load all over his chest and abs – it was magnificent!
Lee follows in his brother's footsteps and shoots an even bigger load – defo one of the most violent and magnificent cumshots I've seen in a while. His dick keeps shooting squirt after squirt of hot jizz which flies several meters in the distance and makes a complete mess on the floor below. We've made a slowmotion video afterwards to let you see that amazing cumshot again in all the details.
Preview video:


Click here to watch their entire video in perfect HD quality at Hard Brit Lads!
Hard Brit Lads is a relatively new porn site that features only the most masculine and well-built straight and bisexual guys showing off and fucking the shit out of each other. Videos are well-made and shot in HD. Don't miss out lots of amazing, manly men!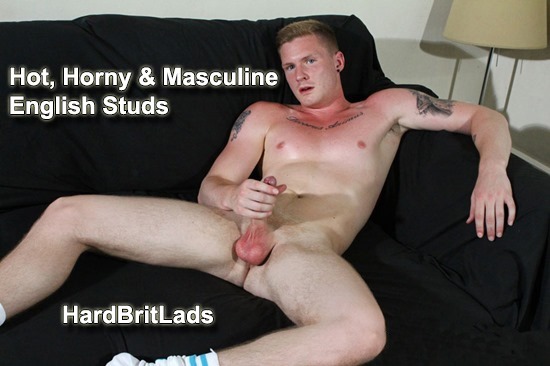 :brothers, facial hair, handsome, huge cock, huge cumshot, jerking off together, Lee Andrews, muscled, ripped, Sean Andrews, straight men