Guillaume is a hot French straight guy. He decided to give porn a try and came to the Keumgay studio to get a helping hand. Actually, since he's so damn hot, there were two guys vying for his big stiff hetero cock!
In the beginning, Guillaume felt a bit awkward and didn't like when he was asked to take off his clothes. However, his cock didn't mind all that and got hard as soon as the guys' hands started to touch it. Check out this serious straight man getting wanked by two horny gay guys. He does look kind of lost in the beginning, and you can tell he's thinking to himself, "What the hell am I doing here?", but apparently his dick loved the attention and then wanted some more!
In the second scene, we can see Guillaume's return. He said he would never do another video, but he needed the money badly and this was the easiest way to make it. He takes off his clothes and lets a gay guy stroke his long thick cock. The gay guy was horny and pervy, though, and wanted also to check out Guillaume's ass and balls, which he did.
We just love these nervous rough straight men. They usually mellow out after some time (at least their cocks say so!), but it's a lot of fun to watch their serious face expressions until they get comfortable. It is our opinion that they just need to relax, take it easy, and flow with it. Their cocks don't lie, now, do they?
Guillaume – Scene 2
Preview videos: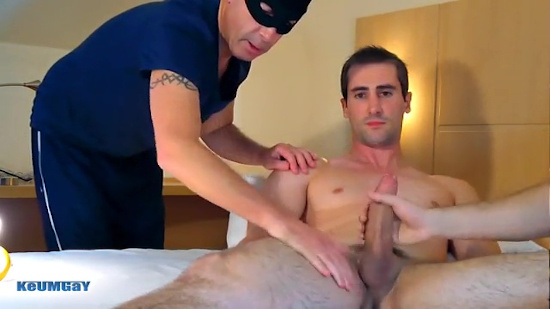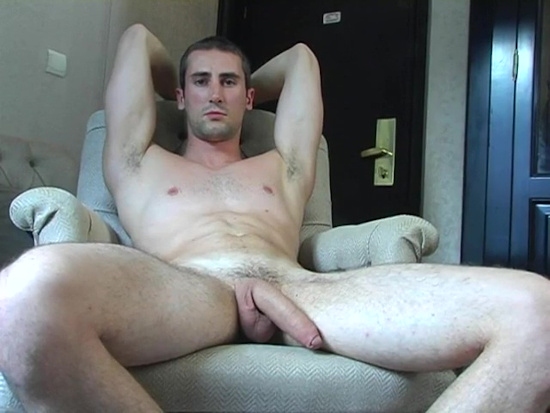 Click here to watch or download their entire video in HD quality at Keumgay.