by Ben Daniels (Admin) on Nov.10, 2014, under Manavenue
Meet Alexx Ham! He is a brand new straight stud and he's got a lot of nice things to show us. His body is totally ripped, with plenty of beefy, strong muscles which this hot motherfucker loves to show off for the camera.
Before taking off his t-shirt and gym shorts, he flexes his gorgeous muscles, admiring his reflection in the mirror. He is obviously turned on by the fact that other people will get turned on by watching him and he thoroughly enjoys the attention. He gives us a little sneak peek of his pubic hair by pulling his shorts just a little bit. He is rubbing his cock through the shorts and it quickly grows and gets hard.
Not long after that, he is already completely naked and we can actually watch as his cock is getting harder and goes upright, eventually pointing straight to the ceiling. He keeps flexing his muscles and showing off while his now rock-hard cock is pulsating at the pace of his heartbeat.
Next, Alexx lies on the bed, his cock still fully erect, and he spreads his hairy legs wide apart so that we can get a better view of his gorgeous stiff rod. He starts stroking it, at first slowly, then faster and you can tell that he is enjoying every second of it.
After some time, when he is very close to the point of no return, we can see that his whole body tightens up and his leg muscles twitch a little bit just before he starts shooting his load. His jizz lands on his six pack and then the cameraman zooms into the glorious cumshot.
Alexx is certainly one superhot beefy motherfucker and we all hope that there would be many more opportunities to see him in the months and years to come.
Preview video:
Click here to watch or download his entire video in HD quality at Manavenue!
Manavenue is an exceptionally good porn website that features masculine, cocky, muscled, powerful straight men, the type of guys that grab your attention while you're secretly ogling them in the street or in a supermarket. These tough motherfuckers are aware of their sexual appeal and want to show you everything they've got.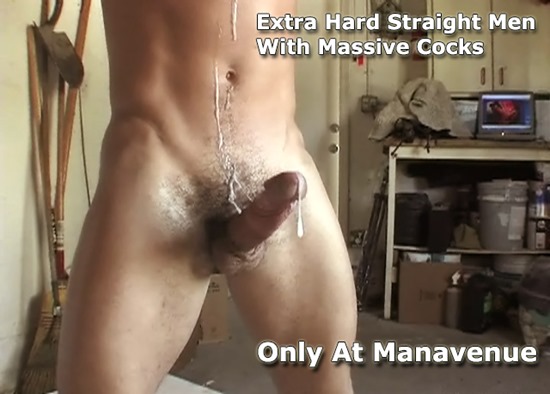 :Alexx Ham, Baseball cap, beard, big dick, cumshot, flexing muscles, hairy chest, hairy legs, jerking off, muscled, ripped, showing off, stiff cock, straight men