by Ben Daniels (Admin) on Jun.30, 2015, under BaitBuddies
This is a continuation of the "All Star Buddies" series on Baitbuddies, i.e. the guys who already did videos for them and then disappeared for some time, here they meet again. One of the Caruso's great finds is Marxel Rios. He shot his first scene for Baitbuddies in 2011, and back then he was a straight boy. After he sucked some cock and fucked a few dudes, his outlook about his sexuality changed quite a bit, or should we say – he broadened his horizons, and nowadays this once 100% straight dude proudly says that he's open to any gender and skin color combination, and is pretty enthusiastic about experimenting in that area. Marxel has graduated in a culinary school and has been working as a chef who specializes in Asian and Thai food.
Johnny Hazard is a pretty well-known gay porn star and he's participated in a great many porn films so far, but never in Baitbuddies. As luck would have it, one day Johnny was having a dinner in the restaurant where Marxel works as a chef, and that's when Johnny recognized Marxel's friend as someone with whom he worked in some of his videos. Johnny had set eyes on Marxel for some time already, and was genuinely disappointed when he heard that Marxel didn't want to do porn anymore. Nevertheless, Johnny sent a little note to Marxel though a helpful waiter and later the two guys sat for a pleasant talk.
It seems that Johnny was pretty convincing and talked Marxel into giving porn another try – Caruso got a phone call soon after and Marxel asked him if it would be possible for him to star in yet another Baitbuddies movie. The main director Caruso is of course always on the lookout for hot guys for his movies, so this was just what the doctor ordered! So Johnny and Marxel are invited to come to Ft Lauderdale and sent directly onto the main couch! The guys are given simple instructions that boil down to "Do what naturally comes to you. It's only important that you make things HOT!". For two hot guys like Johnny and Marxel, that was pretty easy to achieve.
By the way, Marxel is of mixed Puerto Rican and Italian descent, pretty tall (6′), with strong legs, hot firm butt and a gorgeous 7,5" cock to match. Johnny also has Italian blood flowing through his veins, and he is also very well-endowed in the cock department. Needless to say, after all these years of practice in making porn films, Johnny is defo a pro who knows how to use his cock and ass. So the guys essentially flip-flop. Marxel was surprised how great Johnny's cock felt in his ass. There was quite a bit of chemistry between these two, and you can feel it. Marxel still plays the straight dude who likes to fuck gay guys, and Johnny had no objections.
Preview video:
Click here to watch their complete video in HD quality at Bait Buddies!
Bait Buddies is a pretty hot straight guy site with plenty of updates and some very hot guys indeed. There is always a "bait" dude who is bi or gay, and a straight (or sometimes "straight") dude who needs to be seduced into gay sex.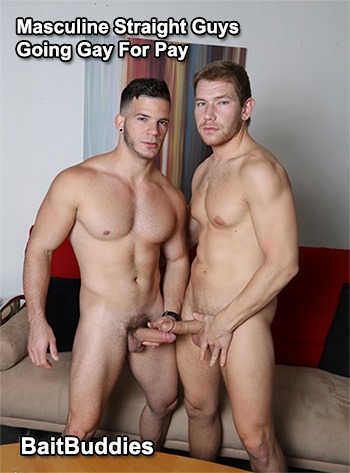 :big dick, blowjob, cumshot, fucking, Italian stud, Johnny Hazard, Marxel Rios, muscled, straight to gay, tattoos. facial hair