by Ben Daniels (Admin) on Aug.07, 2015, under BreederFuckers
Things are not always as they appear to be. Young handsome straight lad Will and his hot girlfriend Tracy are going to learn that lesson the hard way. Will and Tracy have selected this hi-tech hotel which pervy owner Adrian rents to young couples. They intend to spend a few nights here, hoping they'll have a nice time here. And now that they've finally escaped their nosy parents, Will can fuck his girlfriend in the privacy of their room as much as he wants. Or, at least, he thinks so.
Little do they know that Adrian and his pervy friend Dave have installed dozens of hidden HD cameras in their room, and are able to monitor everything that goes on in that room on their big monitors in the basement.
It's late evening and Dave and Adrian retire to their secret lair with many monitors expecting to watch the young couple making love. Even Will's sitting on the toilet is carefully monitored by a secret camera hidden in the wall… but the main attraction is, of course, the wild fucking that everyone expects to happen when Will returns to the bedroom and starts getting intimate with his gorgeous girlfriend. Adrian and Dave's patience has paid off and finally they can watch Will while he's fucking his fiancé. There are lots of cameras and Dave and Adrian are able to watch the action from different angles, too. Completely oblivious to all this, Will is fucking Tracy with wild abandon.
But, Adrian and Dave's perversion doesn't end there. The sight of the young, athletic dude who bangs his fiancé has made the two pervy men terribly horny. Driven with lust for the straight lad, Adrian decides that Will is too cute to be allowed to go freely. Adrian and Dave devise a plan: they will wait till the lad empties his balls and becomes exhausted and sleepy. Then, tomorrow, when Tracy is off to work, Adrian and Dave plan to enter Will's room and fuck his virgin straight ass. So Adrian and Dave barge into Will's room and greedily focus on Will's bubble ass. Sleepy Will has no idea what's happening even while Dave is binding his legs with leather straps. Will is then gagged so his screams cannot be heard by the neighbors.
Dave's cock is fully erect and he shoves it into Will's inviting ass without mercy. Dave fucks Will quite aggressively, and then Adrian takes over and fucks the startled boy some more. Both perverts dump their loads all over Will's demolished ass. While the pervy men are gleeful that they got a piece of Will's straight ass, Will is still struggling to make sense of all that has happened to him!
Check out the newest videos with arrogant straight men being turned into obedient cocksuckers at Breeder Fuckers!
If you prefer your porn to be on the kinkier side, you should definitely check out Breeder Fuckers (formerly known as Straight Hell). Breeder Fuckers is a premium fetish site devoted to hot straight guys being tormented, humiliated and treated without mercy by big, mean & aggressive studs!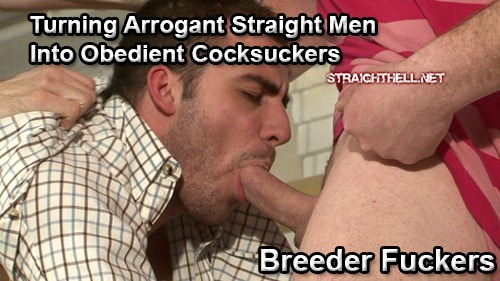 :aggressive fucking, bareback fucking, big cumshot, big dick, British guys, CCTV cameras, domination, forced fucking, handsome, naive guy, straight men, tied up, Tracy, Will, young couple