by Ben Daniels (Admin) on Oct.23, 2015, under TheCastingRoom
Tobie is a young hot straight lad whose main hobby is – fucking hot chicks! Tobie comes across as a bit cocky and thinks that the porn biz will certainly benefit from his participation. Unfortunately, the only jobs that he can find at the moment are badly paid manual labor, and he is sure that he's worth much more than that. You can clearly hear in his tone of voice how entitled he feels about himself… little conceited motherfucker!
So now when a chance for easy money and easy job has appeared, Tobie doesn't want to let it slip by… but he wasn't quite prepared for the full physical examination that we perform on our auditions… that took him by surprise. We told him he really has to get totally naked and stand on all fours so we can inspect his straight asshole. Like most other straight men Tobie is very protective about his precious asshole, but that didn't stop the casting director from peeking inside…
Later, Tobie is left with a magazine to jerk off, and we can confirm that he indeed has a nice big cock and shot a nice load… sure enough, the boy has talent and we think he could go far in this biz. What do you think?
Click here to watch his entire casting video in HD quality at
The Casting Room!
The Casting Room (formerly known as First Auditions) is a great, original porn site that showcases young, cocky straight men who would like to become porn stars and make loads of cash. They think that they'll be accepted right away and be able to fuck lots of girls, but they don't know that our casting director is very strict and wants to fully inspect them during the audition. He orders them to get fully naked, show their ass, and jerk off so that we can clearly see the cumshot. Plus, we get to hear all their fetishes and what turns them on.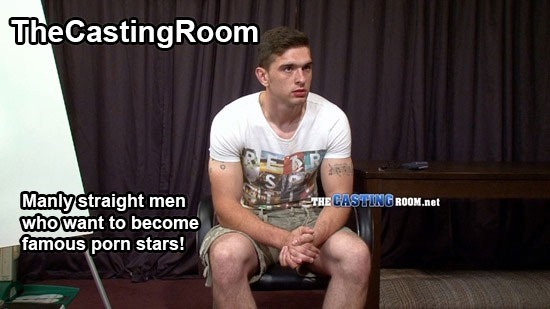 :Audition, big cumshot, big dick, english guys, fit body, jerking off, sexy, showing ass, straight men, Tobie