I really like Joe Parker, even if he's not really straight. He's so hot and masculine, and that huge cock of his is immensely inspiring.
So far Joe Parker hasn't bottomed, but he decided it's high time he made some new explorations into his sexuality and see how it goes. He picked Logan Vaughn as the man who would fuck his ass. Logan Vaughn has been here once and this is his seconds appearance. Logan came to our place after he broke up with his girlfriend.
Last time Logan had his fiery baptism with his first dude, so this time he wasn't so nervous. It seems that straight guys understand all the advantages of gay sex the first time they try it. However they usually don't practice it in their everyday life.
Logan is pretty well-built, his muscles are well-defined. He is pretty popular with the girls, and with the guys as well, but being straight he had sex only with girls until recently. Joe likes these truly straight studs, and his long time dream has been to be fucked by one of them.
Joe removes Logan's pants and takes his nice hard cock in his mouth. Logan then reciprocates and takes Joe's massive monster cock and swallows it as much as he could.
Joe's asshole is vibrating and is all tender from anticipation of another man's hard cock. Logan puts his dick in Joe's ass and fucks him. It was a nice, good fuck and Joe enjoyed it immensely, which is easily seen by his stiff cock that never went down during the entire shooting.
Joe was so horny that he shot one of the biggest loads I've seen in a while. He was pretty groggy after that and lay on the couch to rest. Soon after that, Joe takes Logan's cock in his hand and starts stroking it. Logan was probably amazed at how he fucked the cum out of Joe, and that got him all horny and aggressive, so it took only about 10 strokes to get him off.
Joe even wanted to taste some of this straight man cum, so he took it and licked it. He said it's not something he usually does, but today the moment seemed right and he wanted to find out how another guy's cum tastes like..
Preview video: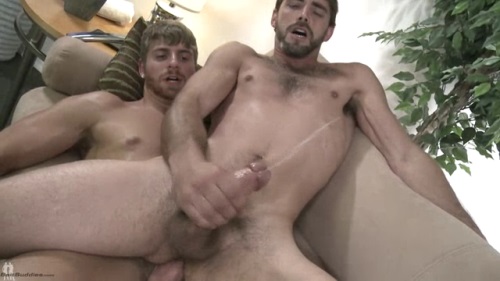 Click here to watch their complete video in HD quality at Bait Buddies!
Bait Buddies is a pretty hot straight guy site with plenty of updates and some very hot guys indeed. There is always a "bait" dude who is bi or gay, and a straight (or sometimes "straight") dude who needs to be seduced into gay sex.