by Ben Daniels (Admin) on May.12, 2016, under All American Heroes
One of the well-known military legends says that Army recruits go to Boy Scouts camps, and Air Force recruits end up in Club Med. Don't blame us if this is untrue, the Marines have told us so!
Anyway, there's an undeniable rivalry between these two groups all the time. But it also can be interesting when we have two such men: Army Sergeant Randy and Airman Paolo at the same place. The two guys don't waste any time and get down to business immediately: they do some cardio exercises, then push-ups. Then they do some games where one can check if his reflexes are working fine. It's obvious that Paulo has an advantage there. However, Randy has one big advantage that should not be forgotten: namely, he can open his mouth wide enough to swallow any type of cock that comes by! Paolo has never seen anyone who could swallow his entire cock in one go, and is impressed by Randy's performance. He'd like to go to the same level as Randy regarding this, but his jaw muscles aren't as fit as Randy's. Randy, however, is all too happy to be a good instructor, and considering the fact that Paolo is eager to learn new things, the progress is assured!
Soon enough these guys lose their camo blouses and Paolo immediately gets on his knees to service his buddy. Randy's cock is quite huge and Paolo's eyes get as wide as it gets when confronted with that monster. When Randy's cockhead tickles Paolo's back throat it was enough to make Randy's cock rock hard and stiff. Once Randy's cock is fully hard and stiff Paolo realizes that swallowing that monster will be a real challenge. But there's no giving up. Paolo is consumed by the idea of servicing his buddy as best as he can. Randy then offers Paolo his ass crack to lick it. Meanwhile, Randy is fingering Paolo's asscrack. Then it's Paolo's turn to stretch Randy's mouth a little bit. His cock is pretty huge as well, and it proves to be quite a mouthful for Randy. Randy is not to be intimidated by it, though, and gives his best to swallow it completely. As it turns out, Randy's throat was in need of some stretching as well, so thanks to Paolo for providing the correct tools for it!
Randy then bends Paolo over and takes care of his ass crack using his tongue. Paolo is in heaven while Randy is exploring his ass with his tongue. Then Paolo gets on his knees and starts face fucking Randy's mouth and throat. The two men are already edging themselves, already both at the brink of cumming. Randy first blasts his load and Paolo is quick to scoop it all up and swallow his buddy's jizz. Then Paolo shoots his load straight into Randy's wide open mouth, and Randy swallows it all, to the last drop.
Preview video:
Click here to watch his entire videos in HD quality at All American Heroes!
All American Heroes is a very cool military site with all kinds of uniformed men (firefighters, military men, lifeguards etc.). It's an unmatched and unavoidable destination for all lovers of hunky, hot uniformed guys who like to blow their loads and fool around with their buddies.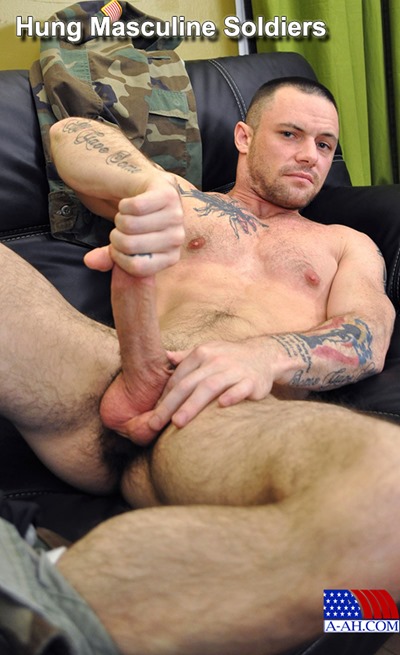 :beefy, big dick, blowjob, combat boots, cum eating, experimenting with guys, gay for pay, guys experiment with cock, military men, military uniform, moustache, muscled, rimming, thick cock