by Ben Daniels (Admin) on Oct.14, 2016, under HardBritLads
Bearded and handsome stud Stany Falcone works out together with his buddy Jack Jefferson, and then their relationship becomes more intimate as the guys begin to kiss each other and check out each other's bodies. Jack sucks on Stany's nipples and continuously checks out his amazing hard abs and pecs, while at the same time massaging Stany's big bulge in his shorts. Jack removes his shirt to reveal a great muscled chest and big arms. Stany starts playing with his nipples and then quickly finds Jack's cock. So now both guys are holding each other's cock and Jack goes to his knees to deepthroat Stany's monster. He is not in a hurry, though, and slowly and carefully savors every bit of its flavor. Then Stany wants to return the favor and sucks Jack's cock until it's also rock hard. Both these guys definitely know how to suck and deepthroat a man's cock, even the larger sizes!
Jack then lies on his back and Stany prepares his asshole using his spit and fingers, making that hole more relaxed and pliable for his upcoming cock assault. So while Jack is standing up against the wall, Stany stands behind him with his pulsating cock and slowly inserts it into Jack's eager ass. He starts to fuck him and increases the speed. Both Stany and Jack look great in this heated fuck frenzy, glistening with sweat.
The guys move to the floor, Jack assumes the doggy position on all fours, and Stany penetrates him from behind. Another hard fuck session ensues. Jack then turns on his back and Stany is on his knees and the two guys proceed to fuck in that position. Stany pulls out and takes off the condom, while Jack shoots his load almost at the same time. Jack's cumshot reaches all the way to his neck! Stany soon follows suit and shoots his load all over Jack's jizz. Jack is left there on the floor totally drenched in warm cum and sweat. 
Preview video:
Click here to watch his entire video in perfect HD quality at Hard Brit Lads!
Hard Brit Lads is a relatively new porn site that features only the most masculine and well-built straight and bisexual guys showing off and fucking the shit out of each other. Videos are well-made and shot in HD. Don't miss out lots of amazing, manly men!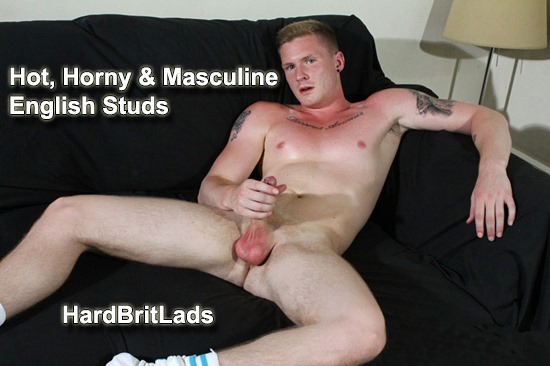 :beard, big dick, blowjob, deepthroat, hardcore fucking, Jack Jefferson, muscled, ripped, Stany Falcone, sweaty, thick cock, throbbing cock, working out