by Ben Daniels (Admin) on Nov.04, 2017, under New York Straight Men
Here's yet another "blast from the past", i.e. one of the classic NYSM blowjob videos with their genuine straight guys and their "resident" cocksuckers. This time round we will get to know Billy a little better!
Billy is a grad student at NYU Film School and, in order to make ends meet, he works in one of the Coffee Shops in East Village.
Billy says that his girlfriend has an unusual fantasy about him, in which she likes to imagine him getting a passionate blowjob from another guy. So Billy thought it would be a great idea to make this video and give it to her as a birthday present! Billy says his girlfriend is bisexual and definitely loves to see a guy getting his cock blown by another dude. Luckily for her (and for Billy), NYSM had just what they needed and wanted – a champion cocksucker called Timmy!
Billy says that he had had one blowjob from a guy, from his mate who came out at that time and had a crush on him. He says it was good, better than the blowjobs he used to receive from his girls at the time. He adds that guys certainly can suck cock better.
So, what Billy's girlfriend would see from this video generally boils down to the fact that Timmy just couldn't get enough of her boyfriend's beautiful stiff cock. Timmy also licked Billy's balls and gave his hairy ass a proper rimjob as well. She would also see how Timmy was greedy to milk those balls full of cum and eventually got rewarded with a great big cumshot – several big streams of jizz splattered all over his face. Naturally, he had to clean Billy's cockhead to make it squeaky clean.
Make sure to watch our Extended Preview video below, it shows quite a bit…
Extended Preview Video:
Click here to watch their entire video in HD quality at New York Straight Men!
New York Straight Men is the world's biggest collection of straight men getting their blowjobs from gay dudes! These men are usually truly straight but they love getting head from a gay guy because it feels so much better than whatever their girlfriends can do. These men are not the Hollywood type cuties, they are Real Men!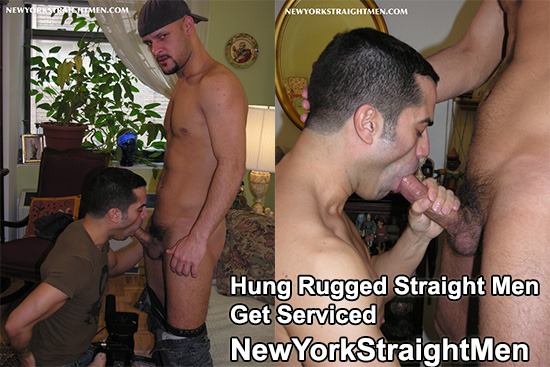 :big cumshot, big dicks, Billy, blast from the past, blowjob, cocksucker, hairy chest, hairy legs, Serviced, stiff cock, straight men, stubble, Timmy