In the previous year or so the boys who shoot porn for me have been watching a certain straight porno that has a characteristic theme. The room is all white so it kinda disappears from the viewer's focus. The guys appear much more "in your face" and when you add some oil on their ripped bodies, the end result is very hot.
So, I got the idea that I could try the same thing with my shoots. I thought that the guys won't like it, but this whole body worshipping thing that it entails made them very interested. The chemistry between the guys also seems to have amplified as the result of these changes.
Anyway, this video is also interesting because it's a "first" for both Solomon and Theon. Theon said he'd like to Top all the time, and Solomon also wanted to push his boundaries. As you may remember, Solomon is a straight dude but he likes BDSM and pain! He can get aroused if there's enough kinky pain or some other kind of aggression involved. Solomon had been unable to cum while being fucked – until today.
After the boys kissed and massaged each other for some time, they exchange blowjobs and have a bit of a sword fighting. But Theon is eager to stick his tool in Solomon's ass, and boy oh boy, does he fuck him like a raging bull!
I thought that maybe Theon wants to keep this fast pace of fucking because he fears he could lose the erection otherwise, but as it turns out, Theon likes to fuck his girls this way, so it is totally natural!
Solomon was also pleasantly surprised by Theon's aggressive fucking style, and as it turned out that was the secret ingredient that he needed to cum while being fucked! Solomon is a kinky boy and he likes it rough and strong. Theon usually fucks his girls so hard and hence this was a perfect pairing.
So pay attention to the moment when Solomon realizes that he can actually shoot his wad from being pounded so mercilessly by Theon. It was a pretty good, copious cumshot and I'm sure you'll be rewinding and watching it again and again.
Solomon also suggested that Theon spunks his face, and that was also his very first facial cumshot. Theon's cumshot was pretty huge as well, and Solomon took it all in his mouth. Some of the cum remained there on Solomon's lips and the two guys played with it while kissing each other after the hard fuck session. Very hot video for lovers of muscled straight dudes!
Preview video: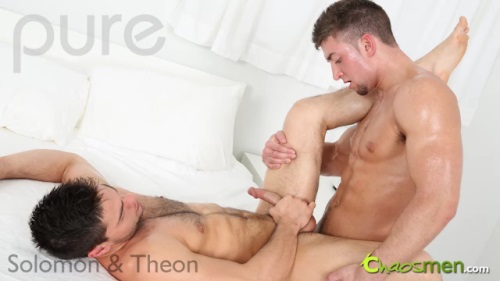 Click here to watch Solomon & Theon's entire video in perfect HD quality at Chaosmen!
Chaosmen is a great porn site that features hot straight and bi men getting serviced or fucking their mates bareback for some cash. This site is exceptional and very unique because almost every single fucking is bareback and ends with gorgeous internal cumshot or creampie.