Kyle is a straight, extrovert dude who loves porn so much that he wears a T-shirt with "I Love Porn" written across it. Although straight, Kyle has a kinky side as we discovered soon. He likes it when his girlfriend sticks several fingers up his hole. Also, his favorite porn genre is "girl clown porn" in which a girl dresses up as a clown and some dude fucks her.
The other dude is Jackson. He's also straight, but more introverted and comes across as a silent type. When we asked him what kind of porn turns him on, he just said "rough sex" – the type of sex where the guy pulls girl's hair while she chokes on his huge cock. Oh, let's not forget that Jackson also doesn't like to watch porn where guys have small dicks. For him, the woman cannot be satisfied with a small dick, and if she moans and screams while being fucked by a small dick, she's probably faking it. A big dick like his 8-incher is much more likely to satisfy a woman, in Jackson's opinion.
Both boys are really hung, I mean just look at their peckers, they're beautiful. However, their body types are different. Kyle has brown eyes, and he is a hairy dude, lots of gorgeous hair on his chest and legs… all over actually. His beard suits him perfectly as well. On the other hand, Jackson is smooth, has blue eyes and almost the same amount of muscles like Kyle. Jackson's cock is about the same size as Kyle's but thicker.
Both guys came to our studios believing that they would be doing a DP (double penetration) video with a chick. Little did they know we had a surprise for them! Both guys got hard very quickly and it's so hot to watch them as they flaunt their big boners expecting to see that chick finally. But our editor Caruso told them that the girl couldn't come and there's nobody else to take her place… so, if they want to earn some quick cash they would have to interact with each other.
As soon as they heard this new proposition, Kyle was pulling his pants on and Jackson was muttering. However, Kyle is really broke and could use some easy money, so he decides he'll listen to what he needs to do and probably give it a whirl. He asks for a bit more money than we first offered. Our editor Caruso tells them they can begin by stroking each other's cock, and the sight of these big-dicked boys stroking each other's hard boner is truly something not to be missed!
Kyle already told us that his girl sometimes puts her fingers inside his hole while she's sucking him off, so we thought that would be a good idea. Jackson takes a big dildo we had prepared and sticks it inside Kyle's tight straight and virginal ass. Then there ensues some hot dildo fucking which is soon replaced by REAL fucking. Jackson fulfills his promise that he likes it rough and aggressively, and fucks the crap out of Kyle. It's a truly great fuck sequence.
Kyle is so aggressive while fucking that he literally fucked the cum out of Kyle, making him nut on his beard. Then Jackson cums all over Kyle's beard and face and adds his own spunk to Kyle's own.
Who wouldn't love this kind of porn?!
Short preview video: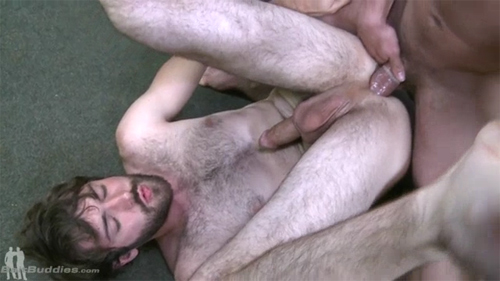 Click here to watch their complete video in HD quality at Bait Buddies!
Bait Buddies is a pretty hot straight guy site with plenty of updates and some very hot guys indeed. There is always a "bait" dude who is bi or gay, and a "straight" dude who needs to be seduced into gay sex. Clearly this is usually staged, but it's pretty hot nevertheless!