by Ben Daniels (Admin) on Aug.15, 2018, under CMNM
We continue our little story about this young hetero man who got caught while wanking at work by his colleagues (you can check out the first part here). He would like other people to think of him as a chaste and pure hetero lad, but his colleagues knew better: they hazed him and played a bit with his virgin asshole.
The young man's penis is rock hard and doesn't care at all that his owner might be embarrassed. His colleagues also get their hard-ons in their trousers and all the three men are now sexually aroused! All that the young office lad wants now is to finally cum and be done with it!
Check out these pervy men's wanton adventures in their whole videos in HD quality at CMNM.
Clothed Male / Naked Male (CMNM) is a hot porn site where Nervous straight guys get stripped naked, groped and violated by fully clothed men.
There's nothing better than stripping straight lads completely nude, putting their bodies on display, and teaching them exactly how to submit! When they are in such a submissive position, one would be crazy not to use the opportunity and jerk them off.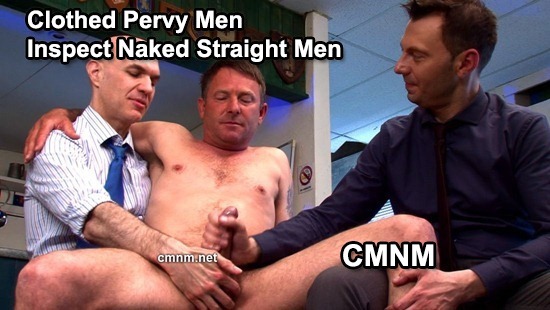 :Clothed Men, cumshot, jerking off, muscled, naked men, office suit, spontaneous erection, suit and tie