By popular demand, Big Dick Derek is back! Derek is 27 years old, he is 6'2" (188 cm) tall and weighs in 210 lbs (95 kg) of pure hard muscle mass. Derek works as an Arborist (Lumberjack), and he has also played lots of different sports in his earlier life. There's hardly any weak spot on his strong muscular body, but if we had to choose several highlights those would be his big 8-inch cock, big muscle butt, perfectly muscular chest, broad shoulders and big biceps.
Derek's cock gets hard very fast and remains hard, stiff and throbbing as he goes about his business in the garden and doing some manual work! First, in the mini workout session he demonstrates how he lifts weights. Of course, his cock responds right away and gets hard. He works butt naked under an avocado tree, bends over so that the camera can capture his big butt, and then he spreads it open so we can see his hairy ass while he starts up the chainsaw. He climbs a tall ladder fully naked (only wearing his socks and work boots), and proceeds to take down trees, then takes a hands-free pee four times, and continues to flex his massive biceps while giving us his trademark charming Derek smile!
Then, he goes to a cement block, sits down and starts a long jerkoff session. Derek is in full Holiday mood at this time, and you can feel his enthusiasm and good mood! He puts on a Santa Hat and puts 2 floral Hawaiian Leis around his fully erect cock, as if they were some kind of cockrings that hold his cock and balls. After some more cock stroking, Derek shoots his hot creamy load which splatters onto his blue Hawaiian Lei that is around his neck, as well as two pink leis. Next up, it's shower time! We get to watch this amazing stud taking a shower outdoors, washing his feet, ass, cock and balls.
Preview video: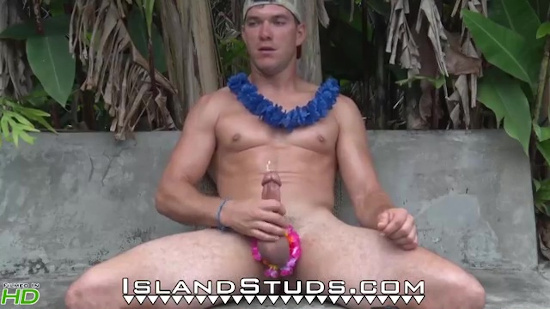 Click here to watch his entire movie in HD quality at Island Studs!
Island Studs is a great, new, and refreshing porn site that features hot guys from Hawaii. These bad boys have no problem with showing off their beautiful, toned body and hard cock. Watch them as they do their usual chores against the stunning backdrop of Hawaiian nature!