by Ben Daniels (Admin) on Nov.21, 2014, under TheCastingRoom
Edvinas is a young, hot, next-door-type of guy whom you might mistake for your neighbor. He works as a construction worker and has a lean, masculine body and handsome face. One more detail that nobody fails to notice – his piercing blue eyes.
It's funny that Edvinas thought that he had such a high opinion about his sexual experience… considering the fact that the casting director is one utterly pervy guy who has tried pretty much every weird fetish and kink that has ever been invented, you can imagine how benign Edvinas' sexual adventures must have sounded to him. Edvinas' tales probably sound great to his construction worker buddies, but for us he's a mere newbie. And we definitely love these somewhat conceited and arrogant straight lads – they look great on camera!
At first Edvinas was reluctant to take off his clothes and obey the casting director's orders, but when we made it clear that he wouldn't get paid unless he cooperates, everything went smoothly thereafter. We gave him a straight porno magazine and let him jack off as he usually does. And we must admit he looked quite sexy with his manly face and hot lean hairy body. This little rough boy sure knows how to use his cock as we suspected from the get go. He was especially shocked when we told him that he had to show us his hairy asshole, but eventually he got used to our demands.
Click here to watch his entire casting video in HD quality at
The Casting Room!
The Casting Room (formerly known as First Auditions) is a great, original porn site that showcases young, cocky straight men who would like to become porn stars and make loads of cash. They think that they'll be accepted right away and be able to fuck lots of girls, but they don't know that our casting director is very strict and wants to fully inspect them during the audition. He orders them to get fully naked, show their ass, and jerk off so that we can clearly see the cumshot. Plus, we get to hear all their fetishes and what turns them on.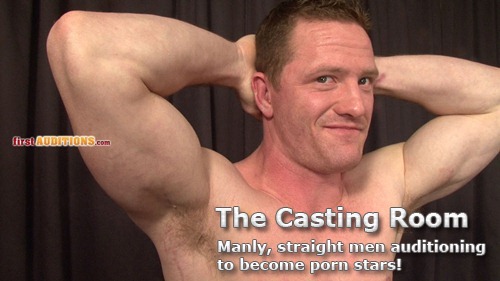 :Audition, blue eyes, construction worker, Edvinas, hairy ass, hairy legs, handsome, jerking off, showing ass, straight men