by Ben Daniels (Admin) on Mar.25, 2017, under Island Studs
Meet Brett! He's a hot Mechanic who comes from Hungary. Brett definitely looks sexy when naked, and his cock is a whooping 8 inches long – thick and stiff! He agreed to do a full auto tune-up totally naked for the Islandstuds owner.
Brett is  only 23 years old, he is 5'10" (178 cm) tall and weighs about 170 lbs (77 kg). He had been working all day long on his clients' cars but he was really enthusiastic about showing off naked for the camera! He is a very amicable young dude and loves to talk about his love for cars. He also explained where those bandages on his body came from, and then happily took off his clothes. He left only a nice white jock strap on, which he says he usually wears while working on other peoples' cars. We like the dirty sexy jock strap!
So Brett continues to talk with us in a friendly manner, and tells us how he used to be a Soccer Captain in his high school years. He jokes how he had trouble finding the pants that would manage to accommodate his huge dick! His thighs are very big and muscular, a consequence of his soccer years for sure.
His cock got hard literally in seconds, and you can tell he really loves showing it off! But first we told him to gas up the 4Runner in the driveway parked under an avocado tree, so that we could enjoy his hot body a little more. His cock stands at full attention and flops left and right while being blown by the wind. He even showed us his nice hairy manhole. There's a lot of foreskin on his cock, and we found ourselves fully enjoying Brett's passionate jerking off session that ensued. Not to mention that really nice and big cumshot in the end, dang!
Click here to watch his entire movie in HD quality at Island Studs!
Island Studs is a great, new, and refreshing porn site that features hot guys from Hawaii. These bad boys have no problem with showing off their beautiful, toned body and hard cock. Watch them as they do their usual chores against the stunning backdrop of Hawaiian nature!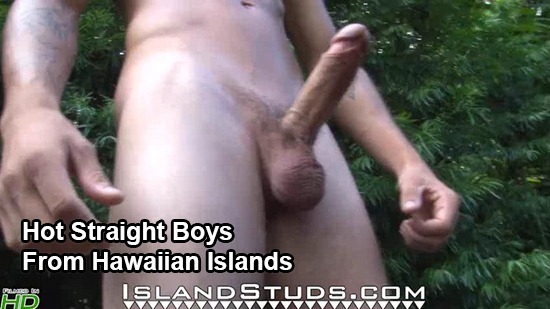 :big cumshot, Brett, fit body, huge cock, jerking off, Mechanic, monster cock, muscled, nature, nude male studs, outside, smile, straight men