by Ben Daniels (Admin) on Apr.22, 2019, under MachoFucker
Today we're going to take a closer look at three new updates from Machofucker: new video with Peto where he breeds Fabien, the remastered video Cristos fucks Marco, and finally the first part of the latest Machofucker's cum compilation called Cum Fiesta 1.
Peto Coast has always been one of the most popular tops at Machofucker. This tall and hung Dutch stud has a distinct and easily recognizable style of fucking, which can be described as: raw, rough, brutal, merciless and manly. Well, no wonder that pretty much all the bottom boys love him! Today the French party-bottom boy Fabien with the inviting bubble butt was the lucky winner and had the privilege of receiving Peto's sizeable dick in his ass. Rest assured that Peto had his way with him and fucked him nice and hard till he dumped his load into the French bottom boy's cum-greedy ass!
*****
Rough-fucked by Cristos is a digitally remastered version in HD of this classic video from the early days of Machofucker. Cristos is fantastic top and a man's man from head to toe. He knows how to fuck cum-greedy bottom boys very well. Marco (who actually works for Machofucker) loves to test new rough fuckers by himself, and he's demonstrated time and again that he can take a big dick like a Pro. This stunning video is truly a blast from the past, and in the new digitally remastered version we get to see it in all the blazing details!
*****
The third video is the first part of a compilation of Machofucker's hottest cumshots and creampies called Cum Fiesta 1. The title says it all, and there's really no need to explain it any further. Watch and enjoy – lots of amazing creampies – shall we say. "the cream of the crop?" (pun intended!)
Peto Coast fucks and breeds Fabien
Rough-fucked by Cristos
Cum Fiesta 1
Preview videos:
Click here to watch and download their entire bareback video in HD quality at Machofucker!
MachoFucker is a fantastic site that features only macho-masculine men with very big dicks, and extreme bareback hardcore fucking. Lots of creampies too. Machofucker tops are very aggressive fuckers and you'll be able to feel the energy and stamina coming from them.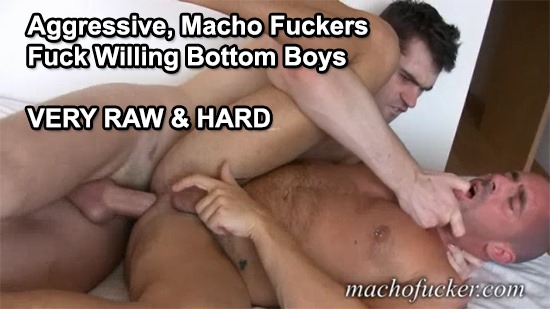 :aggressive tops, bareback fucking, big dicks, Breeding, creampies, Cristos, cumshot compilation, Fabien, internal cumshots, macho men, Marco, Peto Coast