by Ben Daniels (Admin) on Jan.09, 2015, under BaitBuddies
Cody is a cute gay boy who is very much into straight guys. He complains to our casting director Caruso that it's so damn hard to find straight guys for sex. Well, it could be his experience but the statistics tell another story. Namely, according to some reports, in USA there are allegedly more than three million men who identify themselves as straight but would secretly have sex with another man if an opportunity presented itself. Three million horny men that identify themselves as straight and who would secretly have sex with a man is a big number.
Anyway, back to our case at hand. We were happy when we found our newest straight boy who goes by the name of Zach. Zach has a nice toned body and sports a beautiful 9-inch dick. He's a true country redneck, and hails from the backwoods of Ohio. He is only 25 years old, and 6'3" (190cm) tall. Zach loves riding motorcycles, and when we asked him how he got such a nice hard body, he said, "from loading trucks with heavy cargo." As soon as we spotted him among our email photos, we knew that we had a real country boy. His clothing style reflects his country boy roots – baseball cap, t-shirt, tight jeans and lets not forget his distinct accent. He tells us that he's got "a pretty good size dick and an alright body".
We dug up some interesting info on this bad boy by ourselves. Namely, Zach works as a hillbilly strip circuit as well. In other words, he works as a stripper for female audience in a local bar. He told us that most of the money that he makes comes from generous ladies who are allowed to inspect his hot manly body in a seedy backroom of that same bar. I guess there are other things that go on with those ladies but we'll leave at that and let you draw your own conclusions.
Caruso was curious if any guy ever paid Zach to inspect his body, and Zach assured us that that never happened. But as we all know, there's a first time for everything, and we prepared a little surprise for Zach. We won't go into details about this encounter. There is the usual scenario with the missing girl etc. but suffice to say that, after some initial um… problems, our country boy agreed to fuck Cody. But first the guys exchanged blowjobs. Truth be told, Cody did most of the things one-sidedly and made sure that Zach's cock felt taken care of and was well-serviced. When Zach was asked to return the kiss to Cody, he said something like "I never done that, I don't think I can." Then the casting director asked him what he'd like to do and he answered promptly, "eat pussy". Doh! Naturally, that's exactly what you'd expect from a straight guy.
Funnily enough, as opposed to kissing, Zach didn't have any issues with fucking Cody's ass. He inserts his giant cock into Cody's as and starts fucking it hard. It seems country boys have a natural talent for hard fucking – the pics don't do it justice, you'd better take a look at the preview video to see what I wanted to say. Cody definitely got his ass fucked hard and will probably remember this hardcore fuck session till the rest of his life. His ass got stretched and drilled in a pretty no-nonsense way and Cody seems to have loved every second of it.
Preview video:


Click here to watch their complete video in HD quality at Bait Buddies!
Bait Buddies is a pretty hot straight guy site with plenty of updates and some very hot guys indeed. There is always a "bait" dude who is bi or gay, and a straight (or sometimes "straight") dude who needs to be seduced into gay sex.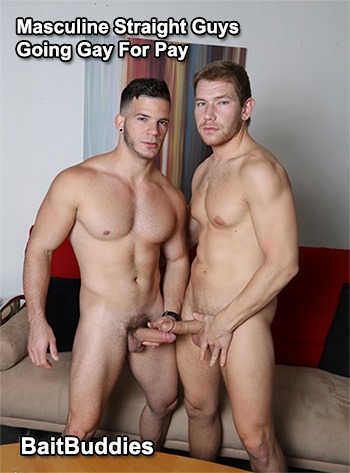 :attitude, Baseball cap, big dick, blowjob, Cody, country boy, gay for pay, hardcore fucking, kissing, muscled, shaved head, straight men, Zach