It's always good to see beefy and horny straight guys who enjoy getting their hard cocks serviced by gay guys. Chad is an old friend of ours and he already knows that gay guys are so much into the whole blowjob thing that it's pretty much a guaranteed great experience. So, Chad cums again to get his big straight cock serviced, this time by eager cocksucker called Aiden.
Aiden is so much into straight guys like Chad that he could literally suck his cock and swallow his cum all day long and would always want more. Chad has realized recently that he totally enjoys sharing his spunk both with girls and guys. So this was obviously a match made in heaven!
As you might remember, Chad works as a bouncer in a popular female strip club. Aiden was turned on the same second when he heard that Chad works as a bouncer. He loves servicing rough straight guys who are strong and have that intimidating, muscular appearance. Chad says that actually he does have to deal with a bunch of drunk straight dudes from time to time, and has to use his physical force in such situations. Aiden was happy as a bunny once he swallowed Chad's hard stiff cock, and wouldn't let him out of his mouth till he squeezed the last drop of semen out of it.
This video begins with a kind of interview with Aaron so we can find out what has been happening with Chad and Aiden recently. Aaron's questions are short and to the point, and soon enough the blowjob itself starts as well. Chad is laid back and relaxed, as always, and enjoys every minute of the blowjob.
Chad is quite bossy and intense with his cocksuckers, and Aiden soon finds out he's no exception to the rule. He shoves his cock deep into Aiden's throat and demands that it be worshiped. Aiden is so busy swallowing and slobbering all over Chad's magnificent hard dick that he barely manages to gasp for air. He is fully committed to providing the best possible blowjob experience for this straight man that has been given to him. Soon enough, Aiden manages to swallow Chad's entire cock – deepthroating at its finest hour. Chad directs Aiden's head telling him with the movements of his hands how he wants his cock to be serviced.
Aiden seems to be in a kind of trance, giving his best effort to fully satisfy the beefy bouncer. It's incredibly hot to watch Chad's big mushroom head going in and out of Aiden's mouth. After some time Chad takes more initiative and starts to face fuck Aiden. He thrusts his entire body and fucks Aiden's face, and Aiden slurps all over it and slaps Chad's cock against his face, then licks his balls as well. You can tell that this eager cocksucker wants that straight spunk fast, and wants it badly.
Now Chad squats over Aiden and keeps face fucking him in that position. Aiden takes this like a champ, and we can tell the inevitable sperm storm is approaching fast. Chad keeps his hand firmly on Aiden's head guiding him and making sure that his cock gets properly serviced.
Chad is now quickly approaching the point of no return and his cock is harder than ever. He says "I'm almost there". Aiden sucks some more, and the next moment Chad starts shooting his jizz onto Aiden's face and mouth. Aiden duly swallows every drop of Chad's spunk, and then continues to lick and clean off Chad's cock.
Aiden has a happy grin on his face while Chad's straight spunk is in his stomach. Chad just wants to recharge at this point, but he says he will be back for more. Especially if he will have a chance to try out some new cocksucker.
Preview video: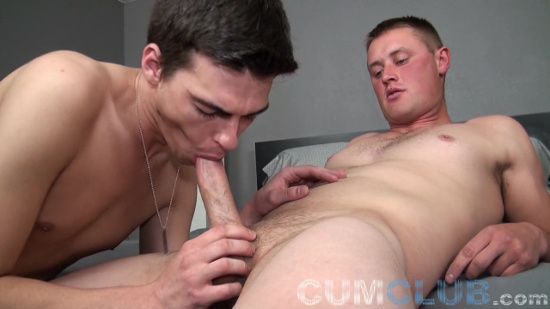 Click here to watch or download their entire video in HD quality from CumClub!
Cumclub is a brand new site from the same guys who used to make sites such as Suckoffguys and Barebackplace. Now they are back with brand new site Cumclub and they will continue to showcase their blowjob and cum-related adventures as they travel all around the country.